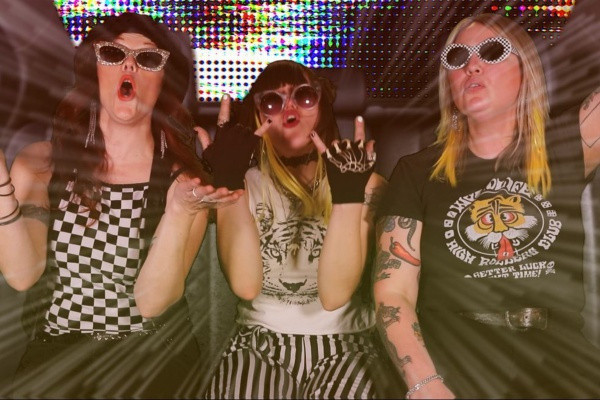 Today marks the release of Montreal-based punk rock power trio Taxi Girls' excellent debut EP Coming Up Roses. The five songs are high energy and chock full of infectious hooks that will have you singing along in no time, especially on "Sunshine". The band's energy is incredible and cements them as a band to keep an eye out for. Coming Up Roses is out now via Dirt Cult Records and Wild Honey Records. Taxi Girls will be playing their record release show on July 21 at Turbo Haüs in Montreal with Outtacontroller, Technicolor Blood, and The High Kinks.
Through the magic of the internet, Punknews editor Em Moore caught up with Jamie, Vera, and Lynn to talk about the new EP, their origin story, seeing into the future, playing Pouzza Fest for the first time, and so much more. Read the interview below!
You formed in 2022 and have been playing shows around Eastern Canada ever since. How did you come together?
Vera: Well…how we came together is pretty neat actually! Lynn and Jamie were in a band together previously called Pale Lips which fell through because of COVID. They wanted to start up another project and one of Lynn's bandmates from her other band, Dirty Cheetah, came to see me play with my hardcore/punk/metal 2-piece project WSHR/DRYR. I believe he said, "You should ask the girl fronting that band, she's a machine!" [laughs] I came to jam with them and the rest is history!!
What is the story behind your name? Are you named after the 1979 movie of the same name or the French New Wave band Taxi Girl?
Jamie: Nothing to do with the French band - everything to do with the porno and the Real Kids!
Coming Up Roses will be out via Dirt Cult Records and Wild Honey Records. How did you decide which labels to work with? What has working with them been like?
Jamie: They are actually the first choice and the first people we sent the EP to! Luckily, they both loved it and snatched it up. Lynn and I as Pale Lips had worked with Franz from Wild Honey via Otis Tours and he has since become a close friend. We are very honored to be on his label!! Dirt Cult is putting out some of the best punk right now - so again… super honored to be included on the label!
This EP was recorded, mixed, and produced by Ryan Battistuzzi (who also recorded Pale Lips) and mastered by Ryan Morey. What was the recording process like?
Jamie: Working with Ryan is a dream.
Lynn: I love working with him, he gets us and is very patient.
Vera: Ryan is hands down the most inspiring and talented producer to work with. He has this way of working that is seemingly very "backseat" yet his ability to hear our ideas and bring them to life makes me wonder if he has a magic wand or something. Major plus for never feeling like someone is mansplaining, especially when it comes to gear and every part of the process. He's the best!!
How would you describe your songwriting process?
Vera: It really depends on the song! Most of the time one of us has an idea for a melody, has written lyrics, a riff, or a beat, and then shares it with the band. We then on our own time we tinker around with it and flesh it out to prepare for jamming it as a band. Sometimes we make demos on our computer and add to them. We've come up with songs just jamming too!
On "After Effect" you talk about the uncertainty around a new relationship and wanting to know where it will go. What is the best way to deal with uncertainty? Would you want to be able to look into the future and see where things were headed?
Jamie: I regularly consult my crystal ball under these circumstances.
Vera: Interestingly enough this song is about uncertainty in any relationship - new and old. I wish I had the answer to deal with uncertainty in relationships. Maybe a new song will come out of the woodwork with a response?? I would also not want to know how things will ultimately turn out as I am a firm believer in the truism "The journey is the destination". Also as I've gotten older I've come to realize that acceptance is key, everything changes. The more you can just enjoy yourself in the moment, the easier it will be. Oh, and meditation!!
You've mentioned that Green Day, and especially their album Insomniac, had a huge influence on "Sunshine". What drew you to Green Day? What is your favorite track off of Insomniac?
Jamie: I just love Green Day so much. When I was very young, I was able to let their music grab a hold of me. I like all the elements. Insomniac is actually my least favorite album. I like their more power poppy stuff - like "Scattered" off of Nimrod. But the baselines and songwriting across their catalog have always spoken to me.
Vera: "Geek Stink Breath" and "Walking Contradiction". Honourable mention - "Brain Stew". INSOMNIAC FOR LIFFEEE!!
Your video for "Sunshine" was directed by Alan Hilderbrandt of Priors at your jam space, Studio Del Scorpio in Montreal, and features some really cool visual effects. How did it feel to film your first video? How did you decide which effects to use?
Jamie: It felt really great to get into it again after the pandemic threw a banana peel under the heels of every musician. All the effects are all Alan. He has a gift!
Vera: It was awesome!! A little bit weird to get into dancing around to the song at half speed since it totally felt emo and the song is completely opposite of that!! You know when the effects make it look like we're maniacally playing our instruments? That was filmed slow and then sped up.
You played Pouzza Fest for the first time this year. How would you describe this experience?
Lynn: It felt so great to share the stage with so many bands. It was very much needed. This year the lineup was really sick and there were many new great bands. I really enjoy Pouzza Fest because it starts off the summer on a good note. There is something in the air when this festival takes place. Many locals and out-of-towners and people from other countries gathered over the weekend and shared something special. It's really great to have this opportunity to share that.
Your EP release show is coming up on July 21 at Turbo Haüs. What are you looking forward to the most about this show?
Jamie: I am most stoked to play with all of the bands - the High Kinks, Technicolour Blood, and the almighty Outtacontroller! Outtacontroller is one of the best bands doing things - so it's a true pleasure to have them come to town for this.
Lynn: Best feeling ever is to finally have copies of our EP with us. As for the release show, I'm looking forward to playing this show with 3 talented bands. A show not to miss.
What is your favourite song off Coming Up Roses to play live? Jamie: "After Effect".
Lynn: Honestly they are all so different that I enjoy all of them. Hard to choose just one.
Vera: Yup, I'm with Lynn on this one, I can't choose!!
How would you describe the punk scene in Montreal?
Lynn: Very awake and alive. It felt like for a while it was slowly dying but I can assure you the scene is not dead. It feels like there's a new rebirth and obviously many genres of punk but it seems like all styles all genres are into it and everyone is there for one simple reason to have a good time. It's really nice to see. There are so many new bands it's really hard to keep on top of it. I feel like there's a younger generation who are active and starting projects. I just hope it keeps going strong.
What are you listening to now?
Jamie: Viagra Boys and La Sécurité.
Vera: Little Simz, Bully and Astrology Podcasts.
Lynn: Podcasts on True Crimes.
What does the future hold for Taxi Girls?
Jamie: The crystal ball says next year is going to be a big one.
Lynn: To play more shows and festivals and do more touring and meet old and new faces. I just want the fun, c'est tout.
Vera: Bring it on!