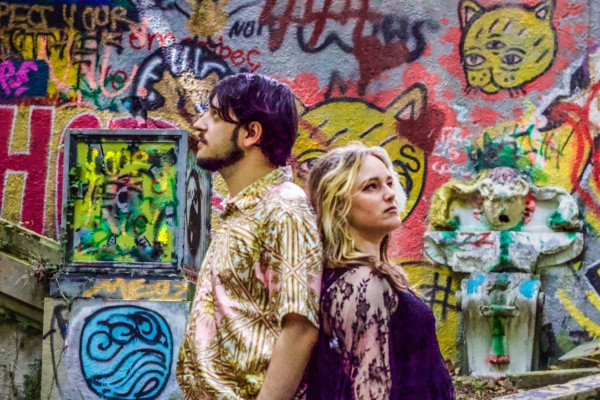 Today, we are thrilled to bring you the premiere of the new video by New York-based ska punks Mega Infinity! The video is for their new song "Chaos Magick" and was directed by vocalist and keyboardist Michi DiGiulio. The song is off their upcoming EP of the same name. Speaking about the song, Michi said,

"'Chaos Magick' is the idea that magic comes from what you believe. The song reflects the belief from our community in our music and us as people. The things that happen because of those beliefs often feel very magical- such as a room of people singing back the words of your own song to you. As I was writing the song I wanted to have lyrics that reflected all the things that happen when you believe and when you're surrounded by friends and chosen family."
Guitarist, bassist, and producer Mike DiGiulio added,

""The title track 'Chaos Magick' was the first new song I wrote after we finished up tracking Rainbow Heartache, and after tons of evolution over time it's become one of my favorites. On this track, I wanted to combine the heavy grooves of bands like Rage Against Machine, the contagiously fun vibes of Just Friends, as well as incorporating the ska music we are so heavily influenced by more prevalently into our sound. It's such a fun, energetic and hard hitting track that was a blast to arrange."
Chaos Magick will be out on October 10 via Ska Punk International Records. Mega Infinity will be touring the US with Indigo In Decay starting next month, including SPI Minifest in New Jersey on September 10. Watch the video and see the dates below!
| Date | Venue | City | Details |
| --- | --- | --- | --- |
| Sep 07 | The Chess Co | Rockland, MA | w/Indica In Decay |
| Sep 08 | Scottish Dave's Pub | Clinton, CT | w/Indica In Decay |
| Sep 09 | Bar Freda | Queens, NY | w/Indica In Decay |
| Sep 10 | La Vision Studios - SPI Minifest | Asbury Park, NJ | w/Indica In Decay, Hans Gruber and the Die Hards, Joker's Republic, Take Today |