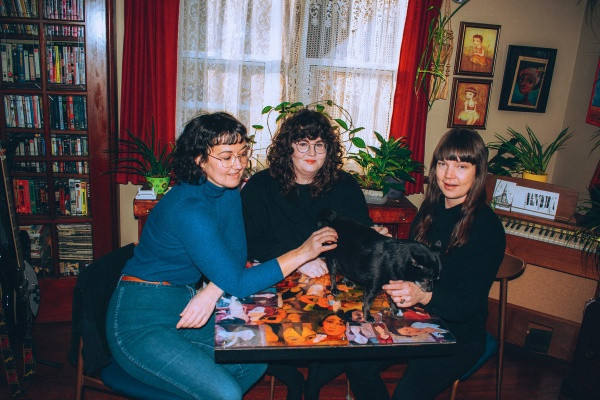 In July, Sudbury-based garage rock trio The Ape-Ettes blessed the world with their first new music together in almost 6 years with the release of their EP Simply. The EP sees the band exploring motherhood, talking about breakups, and discussing the importance of wearing hearing protection over the course of 4 songs that are chock full of melody, humour, and spirit. From the grungey, garagey opener "Trampoline" to the sweet punk rock of "Ré​mi" to the introspective psych-rock of "Inner Child", The Ape-Ettes are bound to get you moving. Simply is available now via Reta Records and Snappy Little Numbers.
Through the power of the internet, Punknews editor Em Moore caught up with the band to talk about their new EP, writing in both French and English, maintaining "cool mom" vibes, and so much more. Read the interview below!
Your new EP Simply marks your first release since your 2017 self-titled album and also marks the first time your music will be released on vinyl. How did it feel to record music together again after almost 6 years? What does it mean to you to have your EP out on vinyl?
We are very proud of our little 45. We were really excited to record at the Piss Factory again. We were well rehearsed going into the studio. Mitch has a great ear and really brings out the best in our songs. Kyle from Pure Plastic took the photos and made sure the sleeve looked slick. It feels great to finally have a record of our own.
How do you feel you've evolved as a band since you started in 2015?
We started off as a cover band and eventually wrote our own songs. We covered Maow!, The Headcoatees and The Detroit Cobras. Our songs are a little more pop now, but we haven't strayed too far from that original sound.
The EP is your first release on Reta Records and Snappy Little Numbers. How did you decide who to work with? What has working with them been like?
Jamie from Reta Records reached out to us asking if we had any new material. We were sitting on 7 freshly recorded unreleased songs and the timing was perfect. Reta Records suggested a co-release with Snappy Little Numbers. Working with both these labels was wonderful. "Simply" wonderful!
Are you named after the Washington-based garage rock band the Apes? What is the story behind your name?
Not exactly. Jeff (Strange Attractor, Tommy and the Commies, Statues, etc.) gave us our band name because we were covering girl groups and aping that garage punk sound. Jeff jokingly and curiously asked what female apes were called. That's how we came to be the Ape-ettes.
How would you describe your songwriting process?
The process varies, but usually the idea of what I, Julie, want the song to be about comes as a line of lyrics or a few key guitar parts, and the rest is just built around that. I will show up to practice with the shell of a song, then we jam it out, and piece it together in a way that feels good. Then I usually have some more lyrics to finish after that. But other times, the entire song is just written straight away. I usually have a few melodies and words that feel important to me saved in my phone's voice recorder for a rainy day.
You have songs sung in French all throughout your catalogue, including "Rémi" on Simply. What does being a bilingual band mean to you?
It comes naturally, we are proud bilinguals. Franco! Many people in our community speak French and there is a thriving francophone artistic community here in Sudbury. Some songs just need to come out in French. C'est pas weird du tout to switch from anglais to français mid sentence dans s'boutte icitte, tsé?!
"Rémi" also talks about parenting. How do you maintain a "cool mom vibe"?
Well the short answer is high-waisted jeans! But also, playing in a band, supporting the arts community by attending events, and just basically not giving up on the things that make you feel vibrant and inspired, just because you're a parent. I think it's important for kids to witness their parents being passionate about things and still enjoying their lives! Oh, and sleep! Going to bed early MOST of the time means that you have enough energy to do cool things and stay out late SOME of the time!
On "Inner Child' you explore your psychedelic rock side as you talk about the importance of self-love. What inspired you to take the song in this direction? What has helped you to embrace and love who you are?
Julie wrote Inner Child with Slow Eaters, a group that featured Julie on bass, Andree on guitar, and good pal Adam on drums. "Hearing Protection" was also previously a SE song. To love oneself, you must admit defeat, bless the mess, and then you can be free like fire! (listen to our first album).
The video for "Hearing Protection" was filmed in a school. How did you decide where to film? How would you describe the filming process?
It was filmed at the school where Julie teaches. Curt from Bad Taste Cinema has been pumping out great videos for bands around town and we asked him to work with us. Jeff and Curt directed, and Curt shot and edited. The whole experience was super fun and easy and we laughed a lot. Shout out to letter flippers Mitch (CT & NG) and Adam (T & R) for being there.
How can you tell if your earplugs are working properly? Do you have a favourite form of hearing protection?
Say again? Louder, please. We should have written the song years ago. Too late now. WHAT?
What are you listening to now?
The ringing of my tinnitus.
How would you describe the music scene in Sudbury?
Our music community is supportive. Whether the band is punk, folk, rap, or metal, you will see the same faces at all the shows. Our scene isn't divided by genres - eclectic lineups attract a wider audience here. We are a tight-knit community and have seen lots of great bands come out of here. Yeah Sudbury!
What's next for the Ape-Ettes?
Another record of course!