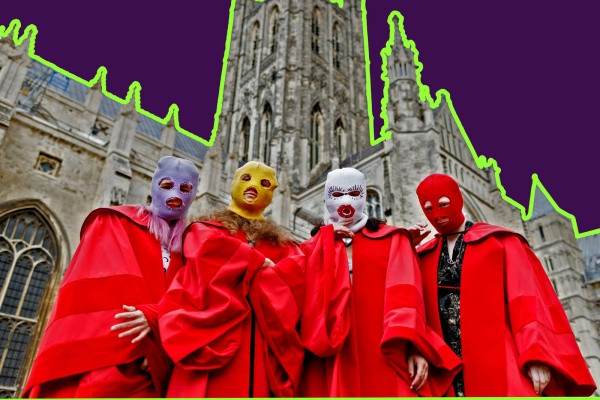 Pussy Riot have announced North American tour dates for this fall. For this tour the band is made up of Diana Burkot, Maria Alekhina, Olga Borisova, and Alina Petrova. Nadya Tolokonnikova released a statement on Instagram about her involvement in the tour which reads,

"for transparency, so no one of you rioters is surprised: i'm not a part of the "riot days" tour. it's a theatrical show about our punk prayer story based on masha's prison memoir. i spend quiet work days in my geo-anonymous art studio focusing on creating a new body of conceptual political art work for the exhibitions in 2023-2025. i play shows and appear in public extremely rarely, but loudly."
Liza Anne, Sloppy Jane, Pinkshift, THICK, and Death Valley Girls will be playing support. Tickets go on sale September 8. The band also will be playing a New Years eve show with The Dwarves in San Francisco. Check out the dates below.
| Date | Venue | City |
| --- | --- | --- |
| Nov 01 | Rialto Theatre | Montreal, QC |
| Nov 02 | AXIS | Toronto, ON |
| Nov 03 | Magic Bag | Ferndale, MI |
| Nov 05 | Newport Music Hall | Columbus, OH |
| Nov 06 | Bottom Lounge | Chicago, IL |
| Nov 09 | Gothic Theatre | Denver, CO |
| Nov 12 | El Corazon | Seattle, WA |
| Nov 13 | Roseland Theater | Portland, OR |
| Nov 15 | The New Parish | Oakland, CA |
| Nov 16 | Belasco Theatre | Los Angeles, CA |
| Nov 18 | Music Box | San Diego, CA |
| Nov 21 | Crescent Ballroom | Phoenix, AZ |
| Nov 24 | Paper Tiger | San Antonio, TX |
| Nov 25 | Emo's | Austin, TX |
| Nov 26 | Tulips | Dallas, TX |
| Nov 28 | Demlar Hall | St. Louis, MO |
| Nov 29 | The Basement East | Nashville, TN |
| Nov 30 | The Masquerade (Hell) | Atlanta, GA |
| Dec 02 | 9:30 Club | Washington, DC |
| Dec 03 | Ardmore Music Hall | Philadelphia, PA |
| Dec 05 | Paradise Rock Club | Boston, MA |
| Dec 08 | Warsaw | Brooklyn, NY |
| Dec 31 | Kilowatt | San Francisco, CA |