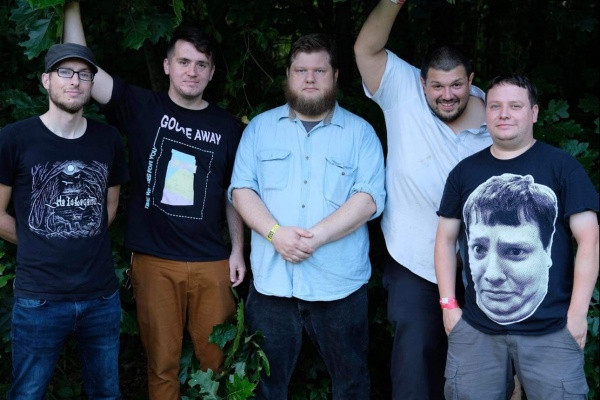 Today we are thrilled to bring you the premiere of two new karaoke-themed videos by Massachusetts-based ska punkers PWRUP! The videos are for their new songs "They Bartholomule" and "Castigation: The Simulation" which features Joe, Jay, and Liz from The Best of the Worst, Eric Skazzini of Voodoo Glow Skulls, and Chris Ruckus of Dissidente. Speaking about the tracks, the band said,

"'They Bartholomule' is a song about the frustrations of feeling more stuck with age, and realizing one's place in society, and how the webs of marionette strings we find ourselves stuck in are systemic and working exactly as intended. Our society is based on a ruling oligarchy and a subjugated working class, everyone knows it but we're too comfortable to care or do anything about it for fear of greater personal hardship. This song pulls influence from bands like Folly, Comeback Kid, Public Access, and American Nightmare, as well as a few capitalism-induced panic attacks at work. This song also features the name of the upcoming full-length, Just Devils.

'Castigation: The Simulation' is our ska-punk ode to learning to let go of the past, forgiving yourself, and moving on, despite life's constant reminders of mistakes you've made and people who you may have negatively affected in the process. One of the major themes of the full length is that it's great to be a better person than you used to be, and it doesn't negate what you've done in the past, but wallowing in self-pity and shame forever is more masturbatory than accepting accountability and moving forward. We feel so fortunate to have our longtime friends Joe, Jay, and Liz from The Best Of The Worst doing guest vocals for this track. Notable influences on this would definitely be Big D & The Kids Table, The Flaming Tsunamis, Arrogant Sons Of Bitches, and the entirety of Bojack Horseman. This track also features Eric Skazzini (Voodoo Glow Skulls) on sax and Chris Ruckus (Dissidente) on keys."
Both tracks are available on streaming today and will be on their upcoming album Just Devils which will be out in late October via Ska Punk International. Watch the videos (and sing along) below!