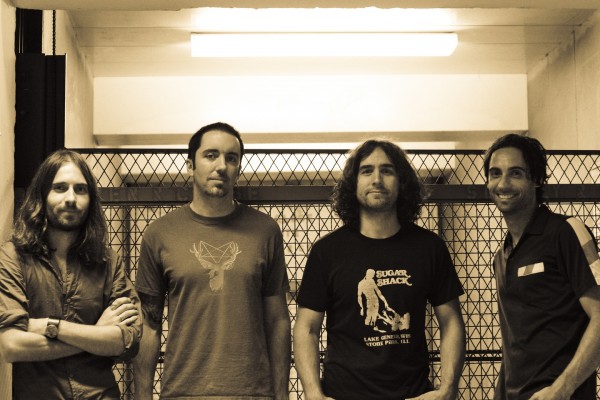 With the decline of Western civilization comes a new pilgrimage of musicians looking to carve out their fates from the wreckage of the past. ÆGES are the new breed of California's creative drifters. ÆGES was founded by Chicago–raised Larry Herweg (Pelican, San Angelus), former Seattleite Mark Holcomb (Undertow, Shift, San Angelus), multi–continent Kemble Walters (The Rise, The Blank Faces, Juliette and the Licks), and the sole California native Tony Baumeister (16, Cutthroats 9).

Converging in Southern California across state lines and international waters, ÆGES use their world–wise musical expertise to rebuild the archetype of the heavy rock band. There's a definite element of desert rock in ÆGES sound––the low–tuned guitars, the sludgy sun–baked riffs, the deceptive pop hook buried in the molasses–thick instrumentation. Yet the diverse backgrounds of the band members create a unique blend of perspectives and a resultantly fresh sound. The common sonic thread between the four individuals in ÆGES––their tenure in bands that explored the darker side of hardcore–manifests itself in the aggressive tonalities of their sound. But their divergent paths, both geographical and musical, broadened the emotional palette beyond the angst of their earlier bands. Their debut full length, "The Bridge", is set for release via The Mylene Sheath (Caspian, Junius, Constants) on April 17th, 2012. The album was produced and engineered by the bands own Kemble Walters at The Canshaker Studio in Malibu, CA, and mastered by Mark Chalecki at Little Red Book Mastering (Omar Rodriguez Lopez, Goatsnake, Megadeth).

The new millennium ushered in a new, revitalized era of artistic integrity for LA. We saw it in the age of the acid–hazed '60s, the age of the nihilistic Regan–era punks, and the current age of abandoned archetypes of a failed economy. It's creative optimism in a time of hopelessness. It's the music of ÆGES.