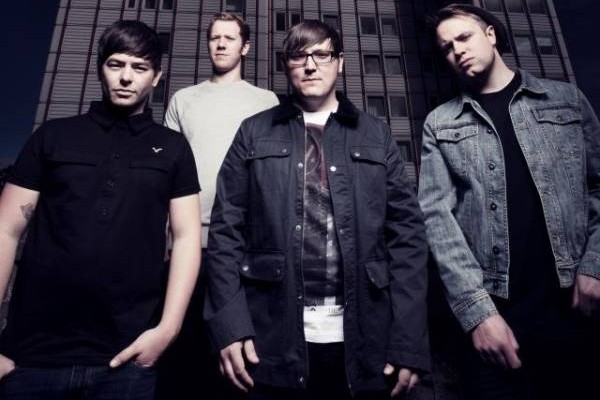 Formed in January 2007 in a rundown industrial estate on the outskirts of Cardiff, Wales, Attack! Attack! UK have already made an big impact on the UK music scene in just a few short months. The band features ex members of Welsh bands Dopamine, Adequate Seven, Midasuno and Pete's Sake. These bands have toured countries all around the world and had releases worldwide too.

Says guitarist Ryan Day: "Neil and I were in a previous band together called Dopamine and we decided to start going through some ideas we both had. We wrote in Neil's house –– in his kitchen –– and I remember the first songs we wrote were Å'Lights Out' and Å'Home Again.'" They added bassist Will Davies to the mix next, an acquaintance from the live music circuit. Mike Griffiths came on board as drummer after another friend didn't work out in that slot. Says Day: "I knew Mike as we had played in bands together for years. In fact, Mike and I were in our first ever band together called Pete's Sake."

Taking influences from 80's punk, 90's grunge, pop rock and new wave (everything from Stereophonics to AC/DC, The Police, The Ramones, and the Sex Pistols), and powering a sound that Day calls "no frills or bullshit... just honest, melodic and rocking," Attack! Attack! UK have been building a loyal fan base, playing shows across the UK with the likes of The Ghost of A Thousand, Kids In Glass Houses, Tonight is Goodbye, Flood of Red as well as main support slots with Lostprophets and Aiden. The band flew out to Los Angeles in November 2007 to record their eponymous debut album with Lostprophets bassist Stuart Richardson.

"Working with Stu was really cool as he had so many different ideas and views on things," says Ryan. "We knew he was really trying to get the best out of us and we really respected that fact as it was pushing us to get better results. It was one of the coolest times I've ever had. He's just a top guy and he really knows how to make things sound great!"

The album is due out in the fall of 2008, with Rock Ridge Music releasing the album in the U.S. on October 7th and in the UK on October 6th. Although Day is thrilled with the entire record, he cites "Say It To Me" as his favorite song. "I really love this song just because it sounds so evil but it's really melodic at the same time. It's one of the heavier tracks on the album but also has some really good hooks in there too. I just really like the contrast of the song. This song was one that came straight out to –– it just felt right from the start. In a nutshell, it's all about falseness, vanity and lies, and someone I know who always wanted to impress everybody with their bullshit stories. In the end, it did them no good!"

For a band who likes to make their music and live performances fun and inviting, their name might sound a bit, well, aggressive. "We struggled for a while to think of a name," says Day. "At the time we were hanging out with some friends who were also starting a new band and we were discussing names and they said, I think for a joke: Å'We were thinking of calling ourselves "Attack! Attack!" but we have a different name now so we are not using that,' and we were like, Å'WOW! That's such a cool name!' So we stole it from them!"

Attack! Attack! UK was nominated as best newcomer in the Welsh Music Awards 2007. The band has also already received national airplay on Radio 1 and Radio 6, recorded a live session for BBC Radio 1 Wales and a National Radio 1 session in Maida Vale back in March. Many of their headlining dates are sold–out in the UK and an upcoming UK headlining shows as well as dates shared with The Blackout, Funeral For A Friend and Lostprophets.