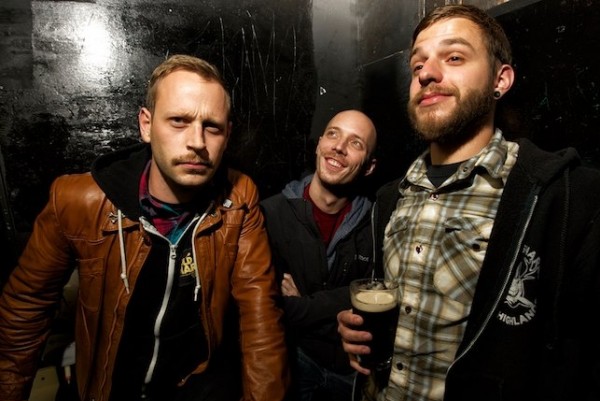 BENT LEFT was born in the fall of 2002 with hopes of melting the minds, hearts, and faces of the Mid–Missouri punk rock and roll scene.

Fate, however, had greater things in store for these young gentlemen. By the summer of 2004, they had self–released two records and taken their raw–energy rebellion on the road. Things began taking off after the band's 2005 release "Skeletons In Your Closet" was met with stellar reviews and international enthusiasm. The record even won them Chain Whipped Magazine's annual award for "Best Unsigned Band." In spring of 2006, with three U.S. tours already under their belts, set their sites on the far east for a two–week stint in Tokyo. They came home and recharged before getting back in the tour rig and beginning work on their latest release "Premeditated Insanity." Another U.S. tour and a blitzkrieg of regional shows later, Bent Left is currently booking 2008 and writing their upcoming full–length "Rocket Surgery."

Perhaps the most impressive feat these young men have accomplished lies not in their music but in their commitment to aspirations beyond mere rock–stardom. True to their political and social ideologies, all of the band members manage to find the time to stay one step ahead of the intellectual enemy. At age 22, drummer Josh Nelson has managed to squeeze a degree in biology and a minor in chemistry into his agenda. 21–year–old bassist William Malott is scheduled to graduate in December of 2007 with a degree in political science, and 21–year–old guitarist Jeff Speak isn't far behind in his pursuit of an audio engineering degree.

Elitist university stigma aside, Bent Left is best known for their belligerently insightful songwriting, pulse pounding live performances, and die hard D.I.Y. ethic. They spend their school days sponging out on the intrigue of a complex sensory environment while frivolously working to build an empirical network of anarcho–commie comrades. Between semesters, these guys hit the road with whirlwind force and cease any and all opportunities to host a killer time.

Their relentless efforts have rewarded them with the support and appreciation of fans, friends, and progressive organizations worldwide. Their ferocious combination of seasoned musicianship and passionate auditory assault has made Bent Left a force to be reckoned with.