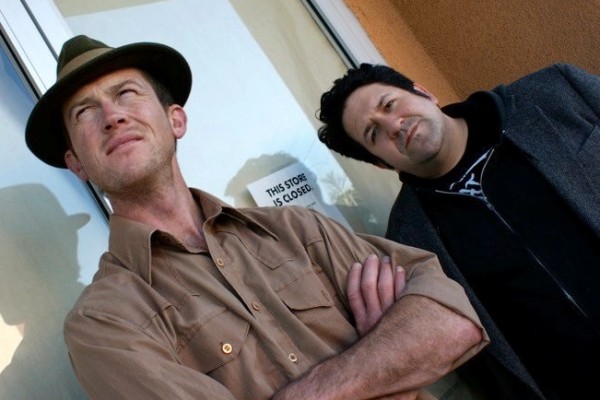 Bobby Joe Ebola and The Children MacNuggits was mightily formed in 1995 in a fast–food parking lot by guitarist Dan Abbott and singer Corbett Redford. The often funny and sometimes scary band built a dangerously loyal following of punks, misfits, elected representatives, perverts and intellectuals, before going on hiatus for the entire tenure of the Bush Administration. In 2009, the band rebuilt its war machine and is once again shocking contemporaries with toe–tapping uncomfortable truths.

The MacNuggits have become legend in the musical underground of the Bay Area and beyond, with their infamously unpredictable mix of searing social satire, soaring harmonies, outlandish and shocking truths, and poop jokes. The songs draw upon a variety of pop culture, of global crises, of interpersonal labyrinths, of nightmares and daydreams, skewering them on a rusty spit for the world to see. With a nod to social satirists like Lenny Bruce and George Carlin, and musical influences ranging from They Might Be Giants to DeBarge, Bobby Joe Ebola is the vaudeville routine for your personal apocalypse.

Dan and Corbett write the songs. Dan plays guitar. Then very strange things start to happen. The apocalypse, just like revolution, is not an event but a process, and it's hilarious.

Bobby Joe Ebola began as a living room band, gaining underground notoriety as flagship band of S.P.A.M. Records, and co–founders of Geekfest, with longtime friend John Mink (better known as "John Geek"), who also provided occasional backup vocals. Lacking the blasting amplifiers of the punk or rock bands with whom they played, they found creative ways to react to the "novelty band" stigma, captivating audiences with unpredictable and hilarious performances. An intensive touring schedule took them around the nation several times, and the Ebola boys had the opportunity to play with groups like: NoMeansNo, !!!, Classics of Love (featuring Jesse Micheals of Op Ivy), The Phenomenauts, Moon Zappa, Mystic Knights of the Cobra, Long Beach Dub All–Stars (ex–Sublime), Fishbone, Cadillac Tramps, The Toyes, Papa Roach, Kepi Ghoulie, Greg Attonito of Bouncing Souls, Kevin Seconds, The Angry Samoans, Against All Authority, Your Mother, Hickey, Captured! By Robots and The Evaporators at venues such as Cafe Du Nord (San Francisco), Bottom of the Hill (S.F.), Slim's (S.F.), Crest Theater (Sacramento), Phoenix Theater (Petaluma), 924 Gilman Street (Berkeley), Spaceland (L.A.), The Uptown (Oakland), Speak in Tongues (Cleveland), ABCNORIO (New York) and 17 Nautical Miles (Portland).

Their first release, in 1996, was the "Two Cats" EP. It "sold" out very quickly (most were given away to local high schoolers) and somehow got played frequently on Dr. Demento's radio show, a brief late night appearance on KITS, as well as regular play and subsequent CMJ charting on KALX (Berkeley), KSUN (Sonoma) and KXLU (LA). The band followed it up in summer 1997 with the full length At One With The Dumb, touring and setting up free guerrilla Geekfest shows, for which they were the house band and occasional masters of ceremonies. The band has also released a split 7" with Your Mother and been on a whole bunch of compilations. Carmelita Sings! was released in 2000, went to #1 on KALX (Berkeley) and the band broke up shortly after. After nearly a decade hiatus, the band reformed, writing new songs and performing with renewed vigor.

While not together as a band, The MacNuggits kept themselves busy. Dan wrote and directed a rock opera for the stage in 2006 called Day of the Zombie. He also continues to play in the all–mutant, jug band, Thee Hobogoblins. Corbett spent his time releasing way too many records for the likes of Gravy Train!!!, Fleshies, Rock and Roll Adventure Kids and The Blast Rocks!!!, to name a few. He also sang for the Bay Area punk band, Neverending Party, released a few records with them and left to pursue a career teaching animals how to comprehend human expletives.

Recently, the band joined SF comedy group, The Business (featuring comedians Bucky Sinister, Chris Garcia, Sean Keane and Alex Koll), for one of their 2010 Sketchfest SF edition shows. The festival also featured Weird Al Yankovic, Terry Jones of Monty Python, the cast of Reno 911 and Arj Barker from HBO's Flight of the Conchords. The MacNuggits were also recently invited to play The Hubba Hubba Revue, a local and award–winning burlesque/variety show.

With new adventures and experiences playing shows different than they ever have and an upcoming album recording session in May 2010, Bobby Joe Ebola and the Children MacNuggits have their phasers pointed at your head… and set on fun.