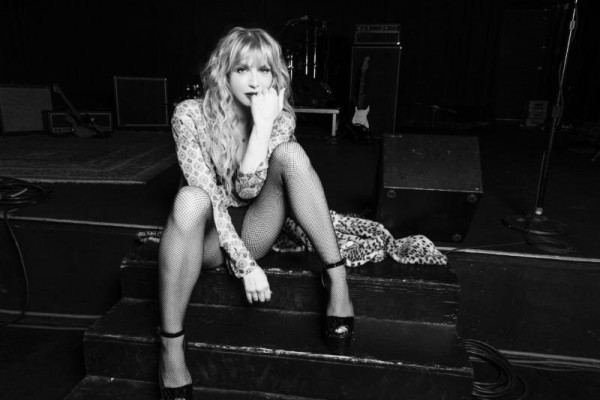 Musician. Songwriter. Actress. Activist. Celebrity. Provocateur. There are few artists who fit into all of the above categories, performers whose life and work are impossible to pigeonhole. There is only one Courtney Love.
The extraordinary music she created with Hole and on her own broke totally new ground. The lyrics are both literate and mordant and possessed of extraordinary intellectual and observational acuity.  They are combined with music of singular power and riveting emotional intensity. She has enjoyed not only real rock credibility but also exceptional commercial success, especially with "Live through This" and "Celebrity Skin" which were both certified multi-platinum and Grammy nominated.
As front-woman of Hole and solo artist in her own right, Love's stage persona that John Peel once described as "verged on the heroic... generating a tension which I cannot remember having felt before from any stage" has the presence and made her a significant iconic figure in music & pop culture.
In addition to her many music-related activities - including impassioned involvement in a variety of artists' rights-related issues - Courtney is also continuing to pursue her love of acting. Love made her cinematic debut with a small role in Alex Cox's 1986 classic, Sid and Nancy, followed by widely praised appearances in a number of independent films, including 1996's Basquiat and Feeling Minnesota. Her much-celebrated turn as the tragic Althea Flynt in the 1996 film, The People Vs. Larry Flynt, was a career breakthrough, earning her a Golden Globe nomination, along with "Best Supporting Actress" awards from the New York Film Critics Circle and the Boston Society of Film Critics, "Most Promising Actress" from Chicago Film Critics Association, and "Best Supporting Actress" runner-up from the Los Angeles Film Critics Association. 
Courtney furthered her calling as an actress with acclaimed performances in such films as 1999's200 Cigarettes, 1999's Man On The Moon (with reunited her with Larry Flynt director Milos Forman), 2000's Beat, 2001's Julie Johnson, and 2002's Trapped. Love also appeared as a youth in several productions at the prestigious Ashland, Oregon Shakespeare Festival.
Courtney recently joined the cast of James Franco's film, The Long Home, based on William Gays' debut novel of the same title. She can also be seen in the final season of the critically acclaimedSons of Anarchy series as well as guest roles on the hit shows, Empire and ABC's Revenge. She was recently seen on stage during New York City's Prototype Festival where she starred in the sold-out hit Kansas City Choir Boy, an original opera composed by Todd Almond.
Love's interest in the arts extends to the graphic. She was an early fan and proponent of the art of the Japanese graphic novel - manga. She is the co-creator and proto-subject of the extremely successful manga series, Princess Ai. Drawn by Japan's most successful manga artist, Ai Yazawa, and co-written by Love and DJ Milky, "Princess Ai" is the story of a smart and talented, yet controversial young woman who utilizes the public stage not only for self-expression but also to hide from her assailants.
As a fashion designer, Love has created limited edition capsule lines in several countries while preparing for the global launch of her own labels, Never the Bride and Magdelene. Courtney can currently be seen opening up for Lana Del Rey on the "Endless Summer Tour". She is releasing her brand new single "Miss Narcissist" digitally worldwide on May 18th via GhostRamp. A physical 7" release will follow shortly after.
Love has been a practicing Buddhist since 1989 and has been a vocal advocate for gun regulation, LGBT rights and feminist issues.