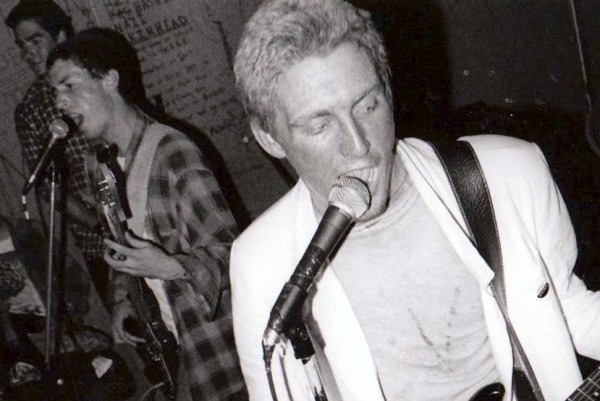 "Crimpshrine was the heart and soul of the East Bay, and the best band to come out of the Gilman/Lookout! scene. I first heard the songs from Sleep, What's That– on a tape given to me by a friend in early 1988. Within days I was writing my own songs that were heavily influenced by Crimpshrine. The band was sloppy and they hadn't been recorded particularly well, and yet it was obvious that guitarist/singer Jeff Ott and bassist Pete Rypins were at least as talented musically as the mullet–haired heshers who roamed the streets of suburbia with their Jackson guitars and thousand–dollar demo tapes featuring bloated, self–indulgent attempts to showcase their musicianship.

But much more importantly, the band wrote deceptively simple–sounding songs, and those songs were brilliant. Lyrically, they combined personal politics and issues of social change effortlessly and with a conviction not seen since the days of Dead Kennedys and MDC. They had all the aggression and power of those bands, but they also had beautiful, angst–ridden melodies and a lyrical genuineness (and maybe naivete) of the sort that was frowned on in independent music circles in 1988. Jeff Ott sang the words written by himself and drummer Aaron Cometbus as if his life and yours depended on it; you couldn't help but be both impressed and worried that Jeff might be screaming his vocal chords into a permanent, bloody mess.

I was thrilled when, upon my first visit to the Bay Area, Jeff and Aaron showed us their Berkeley, which included trying to break into locked rooms at the University of California and flying paper airplanes off of the top of one of the university's buildings. The idea was, of course, spearheaded by Jeff, who always had a sly, knowing, almost insane look in his eye that convinced you within seconds of meeting him that he was on the verge of changing the world. After listening to me make fun of the East Bay habit of using the word "hella" as an all–purpose adverb, Aaron gently took me by the wrist and wrote "HELLUV" in large letters on my hand with a Sharpie, to remind me of the proper pronunciation of his beloved malapropism.

Later that summer, when Crimpshrine's aborted tour left Jeff and Aaron stranded in Florida without a drummer, I drove down with a friend and picked them up. They stayed with me and Jughead for three weeks. While awaiting the arrival of Paul, their new bassist, they taught us Crimpshrine songs on the bass so we could fill in. Crimpshrine went on to record another EP, Quit Talkin' Claude, with Paul on bass this time. The album (which had been recorded prior to the departure of Pete and second guitarist Idon) that then–Lookout! president Lawrence Livermore rejected would turn up in parts on various compilations and another album.

Thankfully, Lookout! has released that material along with other barely–heard tracks with Duct Tape Soup and The Sound of a New World Being Born. After the band broke up, Aaron went back to writing and publishing Cometbus, and continued to play in part–time bands such as Pinhead Gunpowder. Jeff formed Fifteen, a more political extension of Crimpshrine. Both of them continue to contribute to the punk scene with a purpose and conviction seldom seen in people over the age of eighteen."