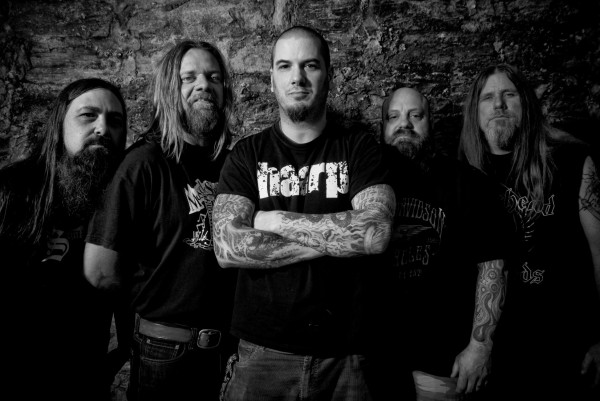 As it turns out, the levees broke long before Katrina. In the '80s and '90s, New Orleans birthed musical lineages that would haunt the underground and rule the world. Detuned and devastating, they rose from the swamps and from the amplifiers of men who knelt at the altar of The Almighty Riff. Who toiled in their Iommic studies and learned those lessons as if their lives depended upon them. They populated and propagated the pedigrees that brought you the dope–sick sludge of Eyehategod, the cinder–block doom of Crowbar, the brash Southern crossover of Corrosion of Conformity (via North Carolina) and the platinum power–grooves of Pantera (via Dallas, Texas). That'd be Jimmy Bower, Kirk Windstein, Pepper Keenan, Rex Brown and Philip Anselmo, more or less. But mostly more.



For the members of DOWN, it's home. Sweet home. It's ground zero. For a state of mind beset on all sides by too much tepid water, too many pills, barely enough weed and never enough Black Sabbath. Yeah, it might seem like the only way you could draw a straight line between the industrial wasteland of Birmingham, England–birthplace of Sabbath (and Judas Priest) to the festering cultural bouillabaisse of the Big Easy would be with a pencil and a ruler, but that ain't necessarily the case. At least not since DOWN have been around, which by all accounts dates back to 1991, when then–Pantera frontman Phil Anselmo and Corrosion of Conformity frontman Pepper Keenan would trade tapes and listen to the doom–ridden prophecies of certified Sabbath heads like Saint Vitus and Trouble as well as Pentagram. Therein lies the genesis of DOWN, the eternal brotherhood into which Bower, Windstein and (eventually) Brown were later initiated.



Which is to say Sabbath is pretty much the key here, the origin of the bloodline, as it were. As loud and heavy and stoned and powerful as you can handle it. The coda to the film in this very package tells the tale: "Bust Up, Tune Down, Sabb Off." And as DOWN's 2004 Ozzfest appearance indicated, the Drab Four smile upon DOWN like DOWN smiles upon their own many and misbegotten spawn: the fans getting their faces ruled at the shows on this DVD, the kids who started bands after being inspired by what they heard; the kids who aren't kids anymore but grown–ass men with highly respected (and respectable) musical outfits of their own. The names are many–too many to mention here, perhaps–but they wear their DOWN t–shirts (and DOWN tattoos) with pride.



But we were talking about New Orleans, where the wards teem with secrets and crawl with ghosts. You can see 'em in the Clarence John Laughlin photographs that grace the inner sleeve of DOWN's unstoppable 1995 debut, NOLA. The product of floods, sweat and beers, it was an album of wall–to–wall motherfuckers without a filler cut in the bunch. From the towering Vitus–inspired doom of "Temptation's Wings" and thundering power–grooves of "Lifer" and "Underneath Everything" to the haunting thickly muscled swamp–swing of "Stone the Crow" and the ultimate reefer death–dirge that is "Bury Me In Smoke," the album chiseled a template in granite like a headstone in a potter's field.



DOWN played roughly 25 shows between '91 and '02, with Crowbar bassist Todd Strange holding down the low end with all 400 or so pounds of his substantial girth. But soon Anselmo, Keenan, Windstein, and Bower were crisscrossing the globe in their other bands, and Down was necessarily placed on the proverbial back burner, a "side project" that looked increasingly like a one–off as the years passed and the individual members soldiered through the hard–won triumphs and squalid tribulations of the lifer experience. And yet in 2002, DOWN emerged from their self–enforced slumber with DOWN II: A Bustle In Your Hedgerow–and with Anselmo's Pantera bandmate Rex Brown now on bass. Not unlike its predecessor, the album unleashed gargantuan bolts of detuned lightning like "Lysergick Funeral Procession," "Ghosts Along The Mississippi" and "New Orleans Is A Dying Whore." DOWN, it would seem, were back, edging ever closer to something like full–time status. But it was not to be. Not yet, anyway.



The day of reckoning came in 2005, when DOWN reunited in the wake of Pantera's permanent and untimely demise. The following year–that's The Year Of VI in Down–speak–the band stomped all over Europe for six straight weeks while a crack camera crew shot the concert film you currently hold in your sweaty paws with a certain sense of anticipation that can only be satisfied by pressing PLAY. Performing sold–out shows across the Old World with no promotion, no record label and no opening band, DOWN tore new ones from Hamburg to Stockholm and back again, culminating in an unannounced set in front of untold tens of thousands on the main stage at the Download Festival in Leicestershire, England. What you'll witness on the enclosed audio–visual extravaganza is the unvarnished ("sour notes and screw–ups included," Anselmo tells us) deliverance of the fucking goods from that six–week excursion, the merciless reaming of an entire continent, and the true grit of five lifers in the Brotherhood Of Eternal Sleep.



In Cologne, Germany, Anselmo sends "Lifer" out to fallen Pantera guitarist Dimebag Darrell, who was gunned down onstage in Ohio in 2004, "and all our other brothers we lost along the goddamn way." There's Keenan, a close–up of his grizzled mug. And that fucking riff. The one from "Lifer" gets us every goddamn time.



Nottingham's Rock City gets a face–full of "New Orleans Is A Dying Whore." Keenan and Windstein churn out the opening salvo like it owes them money, on twin SGs, no less. In Copenhagen, the lighters come out for "Jail." Backstage, the living legends of Europe's metal underground turn out in force. There's Cronos from Venom in Manchester, England. The dudes from Witchcraft in Stockholm. The black metal trifecta of Fenriz (Darkthrone), Satyr (Satyricon) and Frost (Satyricon, Gorgoroth, 1349) in Oslo.



At Download, Bower's drums sound like fucking cannons and Rex's bass, bulldozing. It's "Bury Me In Smoke," the grand finale to end all grand finales–and a sea of thousands to match a riff a thousand years wide. It's before noon and the sun is blazing, cooking all that tender British flesh to an angry pink crisp. There's a pit … make that several pits. There's a false start, followed by threats and allegations. But the riff rides out, steamrolling everything, transcending all. And then the band's performance and purpose is cemented as Anselmo tells the swirling masses, "Live long, live legendary."

These are the precise words DOWN lives by.

Good advice.