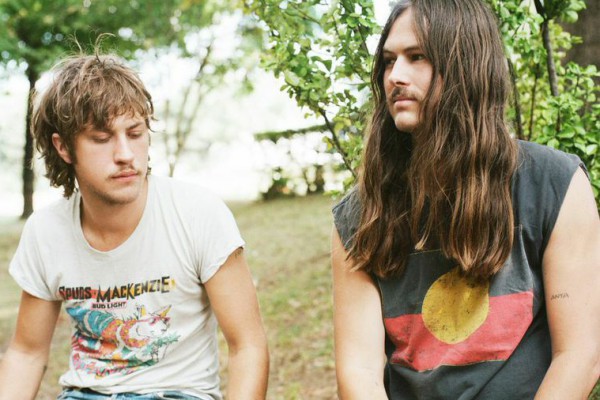 "We're more proud of this record than any record we've made before," enthuses singer/guitarist Jake Orrall about Wasted On The Dream, the righteous new album from Nashville rockers JEFF The Brotherhood. "It's the most time we've ever spent writing songs, the most time we've ever spent in the studio, and it's definitely the most fully realized JEFF The Brotherhood record we've ever made." "Jake and I wanted to make a really fun rock album that could reach a lot of different people," adds drummer Jamin Orrall. "And we've succeeded"

Wasted On The Dream is the record the Orrall brothers been building up to since they first formed JEFF The Brotherhood in 2001. It's a van-rocking, bong-rattling slab that authentically captures their fiery mixture of 70s hard rock, 80s punk, 90's grunge and indelible pop melodies. "People like to lump us in with the garage thing, because there aren't any other heavy rock bands that are playing the circuit that we're playing," says Jake. "But we're not interested in playing three-chord punk or blues songs; we play hard rock, and we're all about the pop hook. Bands like Foo Fighters, Weezer and Queens of the Stone Age — that's who we aspire to be"

Co-produced by JEFF The Brotherhood with Joe Chiccarelli (The Strokes, Poco, My Morning Jacket, Beck), tracks like "Voyage Into Dreams," "Melting Place" and "Karaoke, TN" are loaded with muscular guitars, pounding drums, sky-punching riffs and effortlessly catchy choruses. "We envisioned something similar to a lot of the rock records that came out in the Nineties," explains Jamin, "back when rock records were still really big, and bands like Smashing Pumpkins and Nirvana were playing arenas."

While Jake's three-string guitar and Jamin's minimalist drum kit used to define the band's sound, Wasted on the Dream is the first JEFF album to showcase their recent evolution into a fully realized rock outfit: Jake plays six-string guitar, Jamin plays a full kit, and Jack Lawrence (of Raconteurs and Dead Weather fame) plays bass on the entire album. Wasted On The Dream mirrors the awesome power of the bands live shows, which now feature a full-time touring guitarist and bassist in addition to the Orrall brothers. "We did the two-piece thing for twelve years and became really bored with it," Jake laughs. "We thought, 'we need to get some more people to play with us, because we're about to kill each other!' I'm sure we will perform some of the twopiece stuff again in the future, because the two of us are the band; we can always do that. But everyone who sees us now says we're at our best and this is the best we've ever sounded, in this current incarnation."

In addition to Lawrence, Wasted On The Dream features guest contributions from Bethany Cosentino of Best Coast, who sings on "In My Dreams," plus Diarrhea Planet guitarists, Evan Bird and Emmett Miller ("They play this insane Scorpions-vibe shredder solo on 'What's a Creep,'" says Jake) — and, best of all, Ian Anderson of Jethro Tull, who delivers a truly Tull-riffic flute solo on "Black Cherry Pie".

Wasted On The Dream also showcases the band's sharpest songwriting to date, a development that Jake and Jamin partly chalk up to Chiccarelli's sage guidance. "I wrote 35 songs for the record, and we wound up recording 11 of them," says Jake. "We'd be working up a song in the studio, and Joe would be like, 'Hey, do you have a bridge from another song that you're not using that would go good in this song?' I'd never even thought about doing something like that before, and it totally worked out! I learned so much from him about song structure, and about what resonates with people in terms of pop songs, melodies, production values, all of that." "He made our sound much bigger," adds Jamin. "He's kind of a freak when it comes to drums; he's very, very meticulous about drum sounds, and we spent a lot of time getting them just right." Jake and Jamin have toured and recorded relentlessly ever since JEFF The Brotherhood began, releasing seven studio albums (including 2012's Dan Auerbach-produced Hypnotic Nights), a live record and a large stack of singles and EPs, and building up a rabid cult following in the process. But with Wasted On The Dream, JEFF The Brotherhood have come up with a potent record that will tickle the fancy (and eardrums) of a much larger audience while still bringing their loyal fans along for a raucous ride.