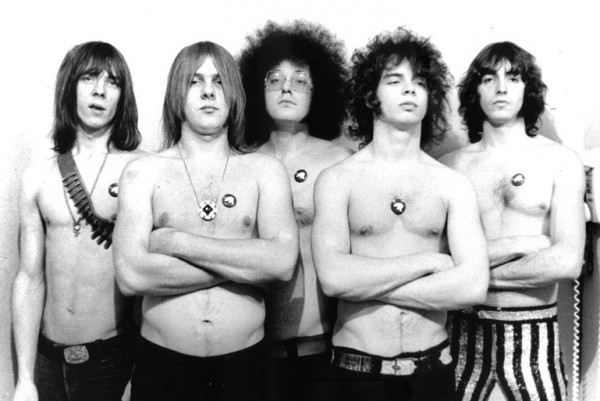 MC5 was a hard rock band that came out of Detroit, USA in 1964, and was an important precursor of and influence on punk rock (see protopunk). The MC5 described their music as New Music and cited the Yardbirds and The Who as the leaders of the New Sound.

Standing for "Motor City Five", MC5 established themselves with their first album, Kick Out the Jams, recorded live on October 30 and 31, 1968. The album caused some controversy due to the title track's rallying cry of "kick out the jams, motherfuckers," and manager John Sinclair's inflammatory liner notes. Sinclair was politically active with the White Panther Party and Fifth Estate.

Their second album, Back in the USA, produced by future Bruce Springsteen mentor Jon Landau, virtually provided a prototype for punk rock with its short, fast, hard–edged angry guitar rock. Their third album, High Time would also prove influential on 1970s hard rock bands like Aerosmith and KISS. Both Back in the USA and High Time lost money for Atlantic Records, which dropped the band.

Singer Robin Tyner died in 1991, and guitarist Fred "Sonic" Smith in 1994. Guitarist Wayne Kramer is still active, and has released several solo albums, although his career was interrupted by an incarceration for drug charges. While in prison, Kramer was unexpectedly reunited with MC5 bassist Michael Davis, also behind bars on a drug charge.

2003 saw the three surviving members of MC5–Kramer, bassist Michael Davis, and drummer Dennis Thompson–performing as MC5 at the 100 Club in London with Fred 'Sonic' Smith's place being taken by Nicke Andersson, vocal chores being filled by David Vanian of The Damned, Lemmy Kilmister of Motörhead, Ian Astbury of The Cult, and singer Kate O'Brien, as well as seeing Charles Moore and Buzzy Jones reprise their roles in the brass section from the High Time album.