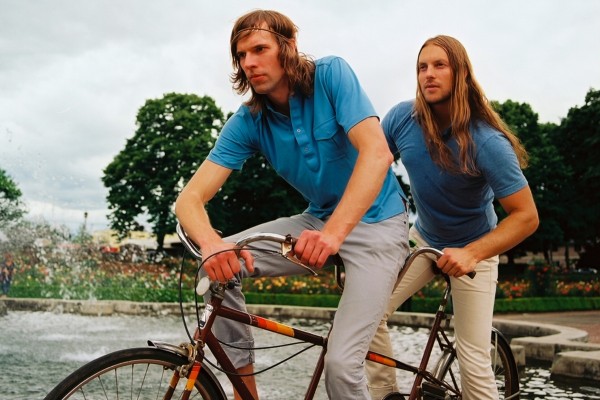 Menomena, the Portland, OR, based experimental rock trio, have signed to Barsuk Records and will release their Barsuk debut on January 23rd, 2007. Friend and Foe shines Northwest indie songcraft through a Chicago post–rock lens, illuminating the quiet recesses with an unpredictable, experimental light.

Danny Seim, Justin Harris, and Brent Knopf perform, sing, arrange, create, and destroy Menomena songs. On stage, Danny usually plays drums and sings. Justin usually plays bass, saxophone, MOOG, electric guitar, and sings. Brent usually plays keyboards, bells, guitar, and sings.

They've released two previous albums on Portland indie label Film Guerrero, I Am the Fun Blame Monster, (which garnered a rare 8.7 rating from Pitchfork and inspired them to say: "Menomena are a hugely creative band, and they've managed to make an album that's extremely accessible yet entirely unconventional") and Under An Hour, which consists of three lengthy instrumental compositions and is the soundtrack to a modern dance performance choreographed by a friend.

We don't know much more about Menomena, but we managed to get them to tell us the following:

"1) Most Menomena songs are the mutant result of what we call "Deeler Sessions." Deeler is a computer program that Brent wrote in Max/MSP that is basically a glorified guitar–loop pedal. The result of a Deeler Session is a bunch of loop aiff files that work together in some way. Later these loop files are often arranged into Menomena songs, with vocals usually added later in the process, and instrumental parts often being rerecorded. This explains why most of our songs are loop based.

2) We are exhausted of talking about Deeler.

3) All Menomena records thus far are done completely by us and us only (with the exception of Mastering, which is usually done by Jeff Stuart Saltzman).

4) the first Menomena album was 99% recorded with one crappy mic.

5) I'm really sleepy."

We're honored to be working with such mysterious and creative individuals, and we can't wait to hear what they come up with next.