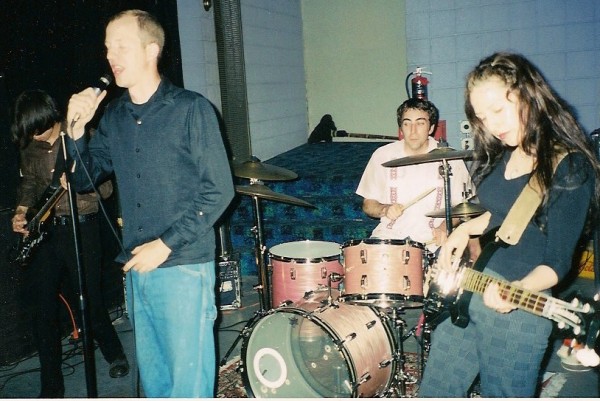 Moss Icon is a punk rock band formed in late 1986 in Annapolis, Maryland. Its original members are singer Jonathan Vance, guitarist Tonie Joy, bassist Monica DiGialleonardo, and drummer Mark Laurence. Alex Badertscher joined as second guitarist in 1990. Moss Icon is known as an early influence on the hardcore punk splinter genre known as "emotive hardcore" or emo,, but the band members themselves have denied knowingly contributing to this sub genre in any way.

The band's identifying characteristics, and those that distinguished them from their contemporaries, included noticeable and abrupt transitions from loud to quiet, Joy's distinct arpeggiated guitar (often picked), and Vance's esoteric, stream of conscious lyrical content. Earlier recordings of the band are reminiscent of early Joy Division, while later songs embodied a less blunt approach with more exploratory arrangements and riffage. Vance's lyrics touched upon vaguely, among other issues, the plight of indigenous peoples of the Americas, and opposed the U.S. government's involvement in Nicaragua and Guatemala.

The band played frequently with fellow Annapolis band The Hated. Moss Icon recorded their debut 7", "Hate in Me", in January 1988, and entered the studio several months later to record their second 7", "Mahpiua Luta". Their Lyburnum Wits End Liberation Fly LP was recorded by Les Lentz (who engineered all of their studio recordings) throughout 1988 but was not released until mid–1994, three years after the band's break–up, by Vermiform Records. Moss Icon's third 7", entitled "Memorial", was recorded in January 1991 along with a split LP with Silver Bearing. In 1994 Ebullition Records released the It Disappears LP, compiling songs from "Memorial" with live versions of several songs.

In 1990 a splinter project of Moss Icon was formed called Breathing Walker, containing all four members of Moss Icon plus Alex Badertscher on bass, Zak Fusciello on percussion, and Tim Horner on violin. Breathing Walker released a cassette that was re–released on vinyl and CD in 2001 by the Vermin Scum label, along with live tracks.