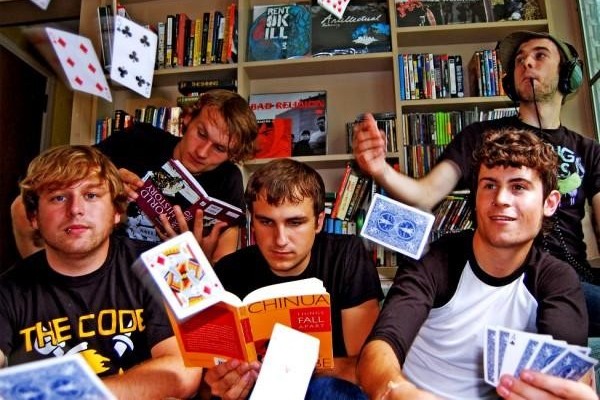 The first time I heard One Win Choice was back in 2008, when our bands were playing together at Asbury Lanes in New Jersey in front of 25 people, give or take. At first, I sort of dismissed them as another young, punk–tinged hardcore band. I had no idea how long they had been around, but I was actually kind of annoyed at their elation, motivation and the sheer enjoyment they got out of playing in a band, at a venue in front of virtually no one. "These kids are just too young, too 'stoked' to really get it," I told myself. In a couple years the scene, the politics of being in a band and the countless miles spent driving to gigs where no one shows up will eventually wear them down."

I couldn't be happier to admit how incredibly wrong I was. On Conveyor, One Win Choice's newest full–length, the boys step up their game, turn their amps to eleven and tap into all the other metaphors that music critics use to describe when a band has written a flat–out amazing record. Channeling ethos and intensity of bands such as Comeback Kid, Strike Anywhere and perhaps little more than a pinch of Refused, and combining melodic punk elements, this Philadelphia, P.A. outfit is the bastion of everything punk rock should strive to be. Socially aware without sounding preachy, intense while displaying restraint, the songs that make up Conveyor take you on a journey of five guys who still give a shit about music, the community and the mark they make on both of those entities.

What makes these guys and this record stand out is the fire, passion and intensity the burns beneath it all. Nothing seems forced, and tracks like :Movements," :Act Your Age" and :Hands Over Hearts" highlight the band's perfect grasp of the phrase "sonic annihilation." Still, these songs weren't created to simply incite kids to sick–mosh or stage–dive. One Win Choice has grown immensely as songwriters and Conveyor is meticulously crafted while exploding with emotion, sincerity and thought–provoking lyrics.

My friends in One Win Choice recently toured through Atlanta to play a poorly promoted show at a small art space. Three years later and the members of the band still maintain all of the exhilaration, the drive and joy from playing music together that they had back at that gig at Asbury Lanes. In today's scene, it is incredibly refreshing to find honest people who are conscious of the impact they are leaving on the scene around them. Whenever you get bummed out on the current state of music, put on Conveyor and remind yourself that there is hope out there. This record is a reminder of all the things punk and hardcore should be.