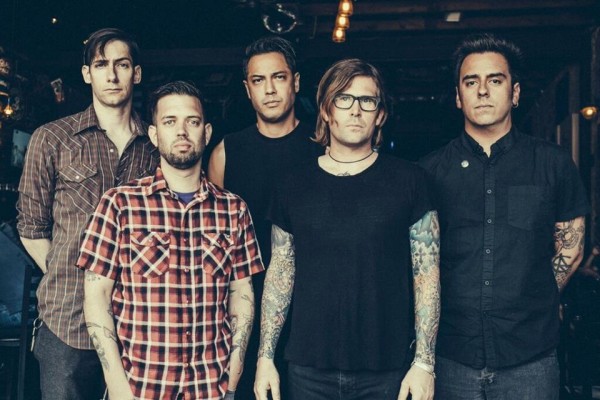 The Riverboat Gamblers have been rocking heads for the last decade. The band was formed in 1997 in the town of Denton, TX. The band features Mike Wiebe (the Rookie Sensation) on vocals, Fadi El–Assad(Freddy Castro ) on guitar, Ian MacDougall on guitar, Rob Marchant on bass, and Sam Keir on drums.

The band is known for their live shows that will leave concert goers in awe. The band's energy and stage presence is second to none. See posted videos on this page for proof of these claims.

The band's newest album "Underneath The Owl" is out now!!! Keep your eyes open for an EP in the near future.

Underneath the Owl is the Riverboat Gamblers' fourth full–length album. Those intimate with the Gamblers' previous output will hear the garage DIY scrap and brawl of their self–titled first record, the balls–out rock backbone of Something to Crow About, and the personalized pop apocalypse of To the Confusion of Our Enemies. Worry not. Your needs will be met. All of them. There is a xylophone and it's okay.

This begs the rhetorical question: do we want our musical heroes to be retarded– Should we demand the same record be released again and again because the last one was so fucking good– There's a lot to be said about records that couldn't have been previously made by a band. Let's just say that death comes in many forms. What kills most people isn't dramatic. It's repetition of the same action over and over again. Musical enlightenment is a dodgy proposition. It all hinges on how much is risked. Underneath the Owl is simultaneously like and unlike each Gamblers record that preceded it. Think of yourself at fifteen, then at twenty–five. You're the same person, but youâ�?��?�re not identical because you've learned some stuff, been knocked down and around.

Those who've seen the Gamblers live have often mistaken Mike Wiebe as the world's longest monkey and are often searching for the electrodes that are shocking him throughout the set. Mike's just feeling the power of awesome that lurks in every nook and cranny as far as his very long microphone chord will allow him to roam during the entire set. Some folks got church. Some got cooking classes or weight lifting. The Gamblersâ�?��?�a collaborative democracy of a bandâ�?��?�have themselves. Fadi, Texas's answer to a wide–stanced Johnny Ramones, handles lead guitar duties. Ian McDougal (formerly of The Kickz) graduated from the best after school program ever. Years back, at eighteen, he joined the Gamblers on rhythm guitar.

True to This Is Spinal Tap, the lifespan of a housefly rivaled that of an average Gamblers' drummer. Refusing to use a machine, the Gamblers played with a constantly rotating wheel of skin punishers for over a year and a half. In February of 2008, the final piece of the puzzle snapped into place when Dallas stalwart Rob Marchant strapped his bass on, plugged in, rocked out, and filled the considerable shoes of his predecessor.

Recording studios can be a lot like submarines. Most of the time is spent cramped, stuffy, and pressurized for weeks on end. In detached pieces, bombs are nothing. Inert materials. In bits and piecesâ�?��?�even with high grade materialâ�?��?�songs are the same. With a Tetris–like assembly, a collaborative group brain, and meticulous attention to detail, all four Gamblers worked closely together to wire Underneath the Owl into the most powerful batch of songs they could. Luckily, it didn't explode on them when they were putting it together. Make no mistake, the Gamblers are at war. War against easy, encouraged repetition. War against themselves to not release a song that didn't ring true, even if it had to be re–written five times. "Artistic development" can be such a douchey, pretentious term, but how to explain trying something new, growing without discarding the ideals of what it meant to be a Gambler when the journey started–

From outside the confines of Gamblers' van/shuttle, it looked like a crazy risk. They leveraged precious time against a fiery, fatal crash in the hopes of reaching further and higher. "Here we go. This is it." The Gamblers share rock'n'roll that helps people forget what a fucktard their boss is and the ways aplenty the world attacks absolutely. They help their fans lose themselves, if even just until the last bit of sweat evaporates from a soaked shirt, even for just the length of Underneath the Owl's eleven tracks.