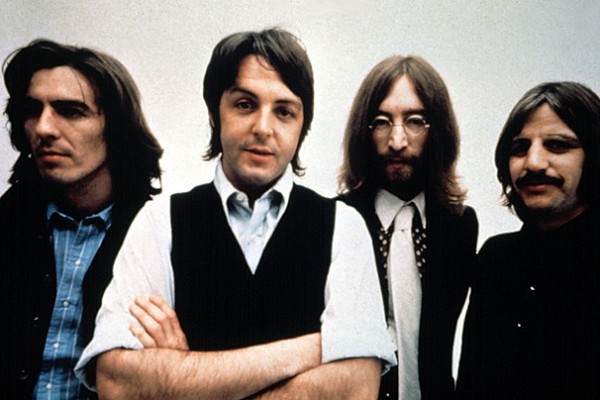 The Beatles were an English rock band formed in Liverpool in 1960 who became one of the most commercially successful and critically acclaimed bands in the history of popular music.[1] During their years of international stardom, the group consisted of John Lennon (rhythm guitar, vocals), Paul McCartney (bass guitar, vocals), George Harrison (lead guitar, vocals) and Ringo Starr (drums, vocals). Although their initial musical style was rooted in 1950s rock and roll and skiffle, the group later worked with different musical genres, ranging from Tin Pan Alley to psychedelic rock. Their clothes, style and statements made them trend–setters, while their growing social awareness saw their influence extend into the social and cultural revolutions of the 1960s.

With an early five–piece line–up of Lennon, McCartney, Harrison, Stuart Sutcliffe (bass) and Pete Best (drums), The Beatles built their reputation in Liverpool and Hamburg clubs over a three–year period from 1960. Sutcliffe died from a cerebral hemorrhage in 1962, and Best was replaced by Starr the same year. Moulded into a professional outfit by music store owner Brian Epstein after he offered to act as the group's manager, and with their musical potential enhanced by the hands–on creativity of producer George Martin, The Beatles achieved a UK mainstream hit in late 1962 with the single "Love Me Do". Gaining worldwide popularity over the course of the next year, they reinforced their success with extensive touring until 1966, then retreated to the recording studio until their breakup in 1970. Each then found success in an independent musical career. McCartney and Starr remain active; Lennon was shot and killed in 1980, and Harrison died of cancer in 2001.

During the studio years, The Beatles produced what critics consider some of their finest material including the album Sgt. Pepper's Lonely Hearts Club Band (1967), widely regarded as a masterpiece in professional reviews. In 2003 Rolling Stone magazine called Sgt. Pepper the greatest album of all time, with three other Beatles albums also in the top ten. Nearly four decades after the breakup, Beatles music continues to be popular, and September 2009 saw the release of a newly remastered discography as well as the video game The Beatles: Rock Band.[2]

According to the RIAA certifications, The Beatles have sold more albums in the US than any other artist.[3] They are credited with six Diamond albums, as well as 24 Multi–Platinum albums, 39 Platinum albums and 45 Gold albums.[4][5] In 2008, Billboard magazine released a list of the all–time top–selling Hot 100 artists to celebrate the chart's fiftieth anniversary, with The Beatles at number one.[6] The Beatles were collectively included in Time magazine's Time 100: The Most Important People of the Century.[7]