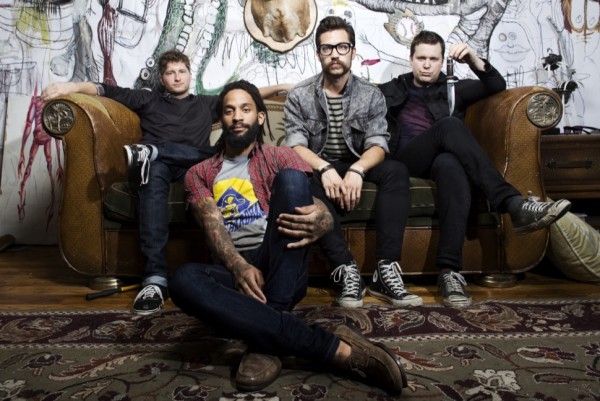 The Chariot are no longer the new kids on the block. What began, in the minds of most of the hardcore and metal underground, as the highly buzzed about reemergence of original Norma Jean singer Josh Scogin has since become a behemoth of its own distinction. Two years of touring behind the raw, unhinged and powerful bombast off "Everything is Alive, Everything is Breathing, Nothing is Dead, Nothing is Bleeding and the follow–up EP, "Unsung," have cemented the Southern quartet's place in the modern metal landscape.

"The next record will definitely define who The Chariot is," Scogin says matter–of–factly about their forthcoming sophomore album. "I love the previous record but it does not define us. I feel like the vision for The Chariot has never been able to be achieved until now."

The Chariot's hard–won and unique identity owes as much to their crazed and intense live shows as it does the settling–in of the band's present and most impressive incarnation: Scogin, drummer Jake Ryan, guitarist Jon Terry and bass player Dan Eaton.

"Every band starts off all gung–ho about touring and playing shows non–stop, but eventually reality sets in and people realize that not everyone is cut out for this life," reasons Scogin, by way of explanation for The Chariot's rapidly evolving lineup.

"Member changes happen in almost every band the first few records. I can't speak for the members on why they have quit but I can honestly say it is for the best."

Scogin says that the new lineup sees eye to eye on everything, particularly their chosen style of music, which had been a problem in the past. The singer previously took on the majority of the writing responsibilities, which has also changed. "Last but not least, these guys are some of my best friends," he says. "I think that is one of the most important things about any band."

The Chariot continues to defines themselves by steering clear or easy categorization and by doing things their way – like when they recorded their debut live in the studio, going against the grain of today's increasingly polished metalcore records. "I have always loved old recordings, like Johnny Cash and Jerry Lee Lewis, because you hear many of the imperfections and that has always felt a little more real to me. So I was pretty persistent on recording in that same vein, even though it was not looked at as a wise decision, if you are in to making music to make money. I don't make music to make money so I did not care."

Despite the band's changes in lineup, and the ever–increasing fanbase they have collected through tours like the 2006 "Sounds of the Underground," that renegade artistic spirit continues to drive The Chariot and everything they do.

"We have never set out to sound like this band or sound like that band, we just do whatever we want to do," the sweet tea and BBQ loving singer says with typical Southern modesty. "We don't care if it is the popular thing to do or if it is going to make us money or any of that nonsense, we only write music that we can feel passionate about. Everything else has nothing to do with rock and roll."