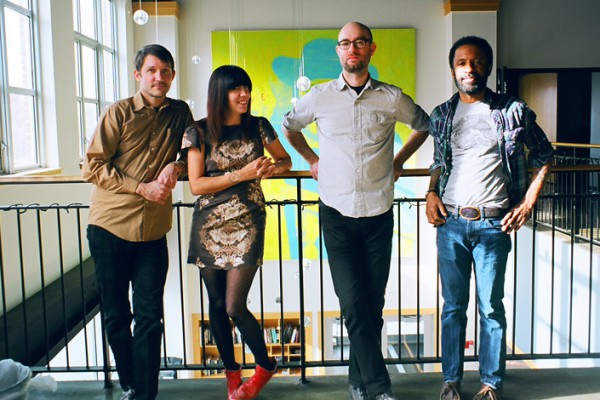 There's something to be said for throwing down all the money you've won and laying all your cards on the table, face up. It's a gutsy move – one that takes a bit of courage, a bit of crazy, a bit of worry and a staunch belief that the outcome will be well worth the risk. Musically, Omaha, Nebraska's The Good Life lives in a moment of that complexity. Led by Cursive's Tim Kasher (vocals, guitar), the band – featuring Stefanie Drootin (bass), Roger Lewis (drums), and Ryan Fox (guitar, keys) – creates bold songs that are not afraid of the mixed up emotions they describe, sometimes in vicious, heart–battering detail. The characters that inhabit The Good Life songs live on the precipices of courageous, crazy, worrisome and determined, throwing down the hand they're playing in each relationship they're trying to save or hoping to begin. Every song on the band's fourth and finest LP, Help Wanted Nights, delivers those perspectives with sheer aplomb – sometimes a little messy, sometimes a little blurred, but never ashamed of asking for what they need.

Recorded by A.J. Mogis in Omaha, NE, the songs on Help Wanted Nights were written to take place in the same small–town bar, and were initially meant as the soundtrack to a screenplay that Kasher started writing in 2006 (he's since completed it). Unlike Album of the Year's start–to–finish narratives, these songs seemed to describe moments of raw emotion more than chronicle a linear tale. Keeping with this idea, when it came time to prepare the tunes for the studio, The Good Life decided to keep the songs as close to their original incarnations as possible, spending long practice sessions on arrangements to record them as true to their form as they could. The resulting recordings, all set to tape, show the compositions on Help Wanted Nights as more stripped down and threadbare than previous Good Life creations.

This isn't to say that the songs on Help Wanted Nights are not expansive; quite the contrary. Akin to stark lyricism of artists like Bruce Springsteen, each track digs into deep emotional territory through its narrative and melodies. Some songs touch on a dark version of Americana, as seen on the grand chords of "You Don't Feel like Home to Me" and the church organ hum of "Rest Your Head." Others are softer like "So Let Go," which delivers its late–night laments via hushed vocals, moonlit, reverb–driven guitars and washed out cymbals. "Heartbroke" dissects a break–up with a heavy dose of sarcasm, while "Keely Aimee" is the best song Fleetwood Mac never wrote.

Achingly beautiful and sharply astute, Help Wanted Nights details human nature in the most honest way possible, taking risks without regret.