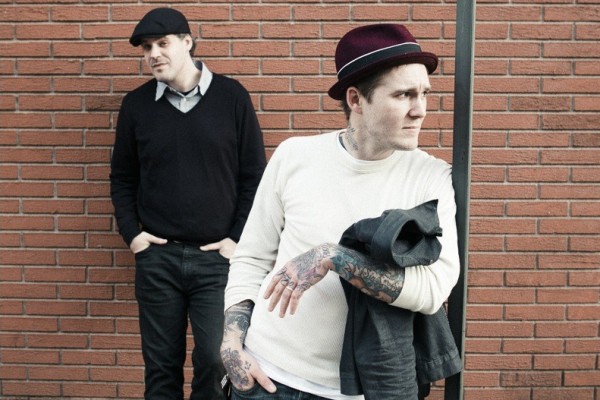 We are proud to announce the debut album from The Horrible Crowes, Elsie, on September 6, 2011. The group–which is composed of The Gaslight Anthem's frontman Brian Fallon and longtime friend Ian Perkins was conceptualized while Perkins joined Gaslight on a worldwide tour last year and the duo wrote the songs on buses, in hotel rooms and even a bathroom in Japan following the earthquake.

"Ian and I had a ritual where we'd go to the back on the bus at the end of a show and play each other records, I got him into Afghan Whigs and he got me into PJ Harvey and one day we just thought, 'we should do something like this," Fallon explains. In that spirit earlier this summer the duo holed up with producer Ted Hutt (Dropkick Murphys, Chuck Ragan) to capture these songs on tape–and the result is something that will likely surprise even the most strident Gaslight Anthem fans in the best way possible. "As much as I have this fantasy in the Gaslight Anthem of being Bruce Springsteen, I also have this fantasy of being Tom Waits or Greg Dulli," Fallon explains when asked about the catalyst for this project, which sees him playing keyboards and working with drum loops and string arrangements for the first time. "These songs are very dark; they're like hymns for lonely people," Fallon continues, "it's really a trip through a breakdown and that dissent into madness and hopefully redemption."

The Horrible Crowes will also be playing shows to promote the album and Fallon promises that the environment will be a stark contrast to a typical Gaslight Anthem performance. "Our shows are going to be smaller and they're going to take place in very intimate venues," Fallon explains. "It's not the kind of thing where you get wasted and listen to some music. It's more, 'I'm going to take my lady out and watch a band play and it's going to be quiet and then we're going to go home and have a good evening,'" he continues.

"I'm not a different person when I'm in this band, it's just another side of what I love," Fallon summarizes, adding that although his Gaslight Anthem bandmates stopped by to perform on this record, The Horrible Crowes is its own tortured and sometimes beautiful beast. Get ready to fall in love with Fallon's songwriting all over again.