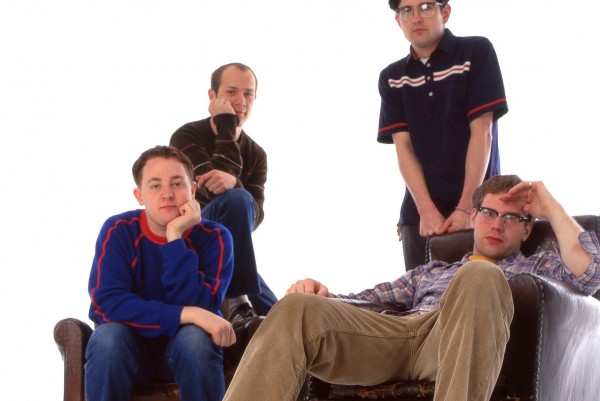 To the delight of their legions of fans, influential indie rockers The Promise Ring have officially announced their reunion for two upcoming shows, as well as the release of a rarities compilation on Dangerbird Records. Tickets recently went on sale for The Promise Ring's highly anticipated concerts at Milwaukee's Turner Hall on Friday, February 24th, as well as Chicago's Metro on Saturday, February 25th. These shows will feature the band's classic line–up–featuring lead singer/guitarist Davey von Bohlen, drummer Dan Didier, guitarist Jason Gnewikow and bassist Scott Schoenbeck–performing songs from throughout their beloved catalog. Fans can also look forward to hearing more from The Promise Ring, as an upcoming compilation of rare live and studio tracks will follow in Summer 2012 from Dangerbird, which will also be managing the group.

"I'm looking forward to hanging out with the guys again, playing songs and shows," said Dan Didier of The Promise Ring. "I am also eager to get the songs that haven't seen the light of day out into the world."

"I managed The Promise Ring in the late '90s and early 2000's, and they broke up on the eve of Dangerbird becoming a record label," said Jeff Castelaz, CEO and co–founder of Dangerbird. "I never dreamed that the band would be an artist on my own label, and I couldn't be more thrilled that they are now. It's great to have them on the label they helped inspire."

Formed in 1995 in Milwaukee, WI, The Promise Ring released three full–length albums on Jade Tree Records–1996's 30° Everywhere, 1997's Nothing Feels Good, and 1999's Very Emergency–which garnered rave reviews and earned the band a devoted following for their unique sound, which molded indie rock into a new subgenre that became known as "emo." The Promise Ring became the first rock band to sign with Epitaph's Anti– Records for their highly acclaimed 2002 swan song, Wood/Water, which was produced by Stephen Street (The Smiths, Blur) at famed Jacobs Studios outside London. During their prolific career, the band toured with a first–rate group of like–minded bands including At the Drive In, Jimmy Eat World, Jets to Brazil, Burning Airlines, and many others. After an amicable break–up, the band's sound and reputation have lived on as an important influence on countless bands. Meanwhile, Promise Ring members have enjoyed further success with other projects: Von Bohlen and Didier with their new band, Maritime, which released their fourth album, Human Hearts, on Dangerbird Records in April 2011; and Schoenbeck as a longtime member of Dashboard Confessional.