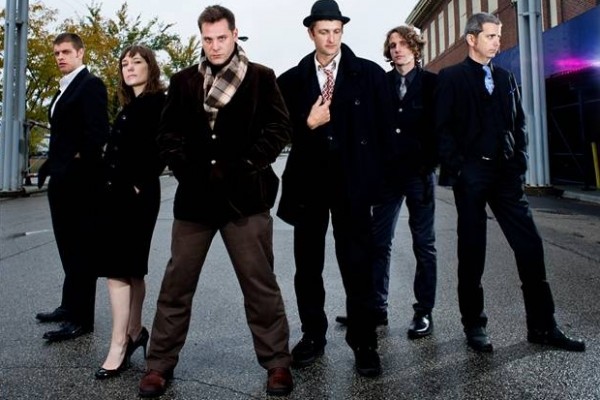 Raised on the South Side of Chicago which is known for its huge Irish Catholic community, The Tossers emerged in the early 90's with their own brew of Celtic music fueled by a love of traditional folk songs and punk rock fury. They named themselves a pejorative term that some trace back to Shakespeare; depending on who you ask, it means commode, drunk, or the currency of Britain rejected when the Irish established their independence in the 1920's. After twelve years and four albums, The Tossers are back with The Valley of the Shadow of Death. It is a collection of songs that run the gamut from a requiem for Dee Dee Ramone to a scathing indictment of the war machine and the politics of profiteering. While their outlook may be tinged with dissolution, the musical performances are anything but shambling: the band takes turns tightly while displaying a keen sense of melody.

Using traditional instrumentation comprised of mandolin, fiddle, tin whistle and banjo beefed up with guitar and drums, The Tossers play with a furious edge that teeters between rage and raucousness. Favorite sons of the Chicago scene, the Tossers possess an unparalleled work ethic, playing "anywhere, anytime, for anybody, with anybody," banjo player Clay Hansen mused. The majority of the band members grew up together and while no one remembers exactly how the band formed, early gigs are described by Hansen as "pretty much the same as now — consuming mass amounts of alcohol, playing all night and not getting paid." Eventually their name got out and while continuing to play the pubs and taverns of Chicago's South Side, they began to open for legends like Shane McGowan and Stiff Little Fingers. The Tossers live shows are legendary for attracting fans of all ages and from all walks of life — drenched in Guinness and Jameson, the dancing crowd are always one step from a riot. Illinois Entertainer had this to say of their set with McGowan, "The seven–piece band did something few opening bands really do: won over the crowd and made you forget that the headliner was a ways off."

The songs are what are most important about The Tossers, from the sacred to the profane. Crock of Gold is a stately traditional march driven by whistle and the ancient sound of Uilleann pipes. Fair enough, till the turnaround, when the funereal feel is shaken off and the tempo rises in a show of fighting spirit. Reels like Out On The Road and the homage to Ronnie Drew titled Drinkin' In The Day show off a keen appreciation for their roots. One can't discuss The Tossers without mentioning their fondness for drinking — Goodmornin' Da brings levity to that subject while I've Pursued Nothing mourns time ill spent and dark self doubt. One of the most beautiful songs on the album is Phoenix Park, a waltzing reminiscence of lost love augmented by rich string arrangements.