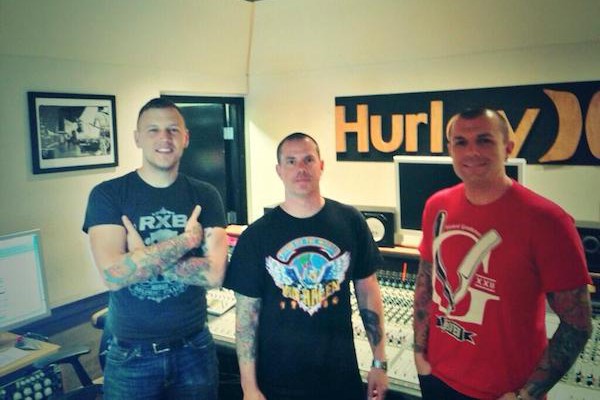 THROWDOWN returns with their first album in four years, a no–holds–barred ambassador of resistance called Intolerance. Unforgiving spite for cowardice, unrepentant proclamations of personal empowerment against oppression of all stripes, old–school hardcore style defiance and adherence to the rhythmic power of aggressive heavy metal continues to define Throwdown on Intolerance, the penultimate blend of the varied strengths that define the band's name.

Intolerance combines the massive production punch of the moody, sludgy and powerfully diverse eOne masterpiece Deathless (which spawned the Sirius XM staples "This Continuum" and "The Scythe") with the focused resolve of Throwdown's genre–classic–filled back catalog. The big sound developed on Deathless works magic upon the brutal missives found all over Intolerance, nearly all of which clock in around 2 minutes. "Fight or Die," "Avow," "Hardened by Consequence" and "Defend with Violence" are startlingly direct commands to take up arms against adversity, to find strength to carry on. Dave Peters' two–decades long devotion to Straight Edge is prominent throughout.

The powerfully abrupt anthems do venture into the doomier ground explored on Deathless Throwdown supporters have grown even more enamored of in the years since the last album's release, but never at the expense of the urgent force of the Throwdown material a legion of fans discovered watching the band on Ozzfest and Vans Warped Tour.

2005's Vendetta set a standard for unrelenting aggression, the product of bandleader Dave Peters' knack for supreme riff–mastery and authentically impassioned vocal delivery. The album was produced and mixed by Zeuss (Hatebreed, Crowbar, Demon Hunter), who returned to mix Deathless and collaborated again on Intolerance.

A cornerstone of the New Wave Of American Heavy Metal, Throwdown have earned hard–fought accolades from the likes of Revolver and Metal Hammer, who likened the stomp of Venom & Tears to Pantera. The band worked with a number of international record labels (including Roadrunner, Nuclear Blast and SPV) following Peters switch from guitar to vocals over twelve years ago. Haymaker is a genre classic, selling close to 90,000 copies in the U.S. alone and giving the straight edge community a new rallying cry in the form

of "Forever."

Throwdown delivered the songs from Haymaker, Vendetta and Venom & Tears on celebrated tours with their comrades in Lamb Of God, Killswitch Engage, Machine Head, In Flames, Fear Factory and Cavalera Conspiracy, to name a few. They toured Australia with Korn, appeared at major European festivals like Download UK, and organized headlining treks around the world, with bands like Soilwork and Bury Your Dead as support, also co–headlining with Black Dahlia Murder .

Drummer Jarrod Alexander (American Nightmare, Suicide File, My Chemical Romance) made his first recorded appearance with Throwdown on Haymaker, returning as a session player again for Deathless and the brand new album, Intolerance. Zeuss handled production and mixing on Vendetta, with Mudrock (Avenged Sevenfold, Godsmack, Alice Cooper) taking over producing and mixing on Venom & Tears. Mudrock produced Deathless, which was mixed by Zeuss.

The new album was recorded at Hurley Recordings in Costa Mesa, California with rising producer Davey Warsop and mixed at Planet Z. Intolerance features guitar solo contributions from Dave Nassie (Bleeding Through, No Use For A Name, Infectious Grooves), who joined Throwdown's recent touring lineup alongside Demon Hunter drummer Tim "Yogi" Watts and Deathless–era bassist Mark Mitchell.

Throwdown's Intolerance stands as a testament to sheer force of will. It's as much about Throwdown as it is the band's longtime fans and newcomers alike, serving up fast–and–furious bangers that beg to be started over (and over and over) each time the album concludes.