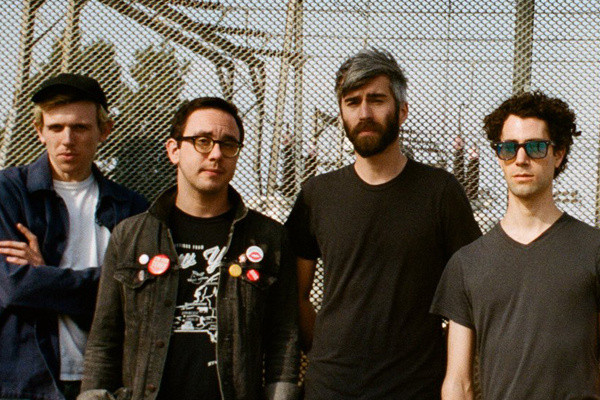 Following on one of the most well received 16 minutes of music in recent history (2006's A Lesson In Crime EP), Newmarket Ontario's Tokyo Police Club will release a debut album entitled Elephant Shell, due out late April on Saddle Creek in North America and Memphis Industries in the UK.

Elephant Shell lands roughly a year and half after A Lesson In Crime (with last year's Smith EP and "Your English Is Good" digi–single and a ton of touring also bridging the gap) and barely four years from the band's 2005 formation. Not bad for four friends who learned to play during senior year in high school, later naming themselves for a nonsensical lyric from the song that would become track one on their first EP, which would in turn sell over 30,000 copies–probably about 29,000 more copies than they expected–and garner accolades from Entertainment Weekly ("We can hardly wait for the full length" A–), Rolling Stone ("If only all young guitar bands were smart enough to rock out this fast, banging out seven first–rate mod–punk party starters in barely more than sixteen minutes"), Interview, Blender, Nylon and The New York Times among others.

If bassist/vocalist David Monks once described the band's music as "wide–eyed post–punk with a tendency to get over excited–so much so that someone has to come and tell it to settle down," Elephant Shell is the sound of four early–20–somethings now seasoned through hundreds of shows from tiny clubs to the festival throngs at Coachella and Glastonbury, maturing a bit and learning to temper and modulate their own more varied musical moods. Or maybe Canada's socialized health care means easier access to generic Ritalin and Adderall–

Either way, Elephant Shell delivers on every bit of promise in Tokyo Police Club's rapid–fire barrage of material to date. The opening one–two of "Centennial" and "In A Cave" barely evaporates before "Graves" and "Juno" pack innumerable hooks and "what–does–that–remind–me–of" glimmers into meager 2–minute–and–change frameworks, while "Tessellate" and "Sixties Remake" encapsulate everything great about the manic TPC live experience: soaring guitar signatures and keyboard figures, driving backbeats and irresistible singalongs abound. Elsewhere, "The Harrowing Adventures Of..." and the down tempo standout "Listen To The Math" find our young protagonists ably adapting their energy into more subdued structures before the rousing coda of "The Baskervilles" brings the record to an all–too–early halt.