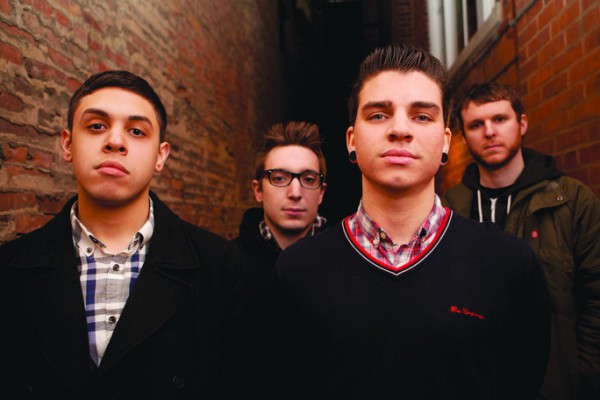 It is a common fallacy that you need to come from a big — preferably gritty — city to be able to write a proper punk rock record. D.C., Boston, San Francisco, L.A. — the thinking goes that you need to have the charge of desperate socio–economic backgrounds rating against each other and competing political agendas to rail against to properly create a strong voice of angst and opposition.

I, however, call bullshit on that whole theory. Let's be honest — punk legends Scream came from the Virginia suburbs, not inner city D.C., and many of the kids that made up the mid 80s California punk movement lived pretty comfortably at home with mom and dad in affluent Orange County. And then there's Wolves at Bay, hailing from Hamden, CT — a suburb of New Haven — who are proof yet again that you can't judge a band by its zip code.

"Being from Hamden has influenced me more than I can ever express," says William Hayes, the band's singer and one of two guitarists. "I grew up being so lucky with having friends around me who would help out me as a writer… and who were all in such talented local bands that I always strived to be as good as, and who always motivated me no matter how hard it got."

And that motivation obviously paid off in spades as Wolves At Bay has turned Only A Mirror, a blistering 11–song debut full–length that's as emotionally raw as it is satisfyingly melodic. From the opening chords and funeral–march drums of "Bedside Manner" to the uptempo and catchy "Breaking In Two" and finally the title track that book ends the album, the band pours out an unrelenting stream of post hardcore guitars and emo–tinged lyrics. Wolves At Bay's sound brings to mind groups as diverse as Balance And Composure, Small Brown Bike and Promise Ring without sounding like it's simply cribbing those bands' tunes.

The band, formerly known as Dear You, also has an EP (The Night A Forest Grew) under its collective belts, and if Only A Mirror is any indication, Wolves At Bay may be responsible for putting Hamden, CT on the map musically. For a city founded by Puritans, there's something rather appropriate about a post–hardcore band leading the charge.