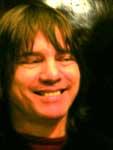 Bomp Records founder Greg Shaw passed away this past Tuesday, October 19th from heart failure at the age of 55. The press release from the legendary indie label states:
"Greg's lifelong devotion to discovering, raving about and releasing authentic -albeit obscure- rock & roll, and promoting rock fandom over four decades was extraordinary. Among his many accomplishments were fanzine publisher, magazine editor, band manager, author, indie label owner, and rock historian. Though his roles often varied, two things were absolutely consistent: his impeccable taste in music and the ability to be there first."
Greg started a rock zine titled Mojo-Navigator Rock & Roll News in San Francisco in '66. A few years after he put out another zine called Who Put the Bomp! which featured such noted rock journalists as Lester Bangs, Greil Marcus, Dave Marsh and Richard Meltzer. Bomp Records was launched in 1974 with the release of the Flamin' Groovies' You Tore Me Down single. Bomp will continue to release the music that was Greg's legacy under the guidance of Suzy Shaw and Alive/Total Energy's Patrick Boissel. They note that "However you choose to honor Greg's memory-- do it with anything but a moment of silence"
Our deepest condolences go out to Greg's friends and family.