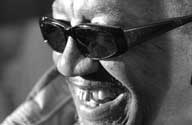 London's Club Ska is reporting that at 8 am this morning Laurel Aitken, widely acknowledged as the 'Godfather of Ska' and affectionately known as 'Boss Skinhead,' died of a heart attack at Glenfield Hospital in Leicester, England. Aitken was born in Cuba on April 22, 1927 and moved to his father's homeland of Jamaica in 1938. In 1957 he began his recording career with the single "Roll Jordan Roll." The double A-side "Little Sheila" / "Boogie in my Bones" was the first single released on Chris Blackwell's Island Records, one of the first ever ska records, and the first Jamaican recording ever released in England. Aitken relocated to the U.K. and recorded numerous hits throughout the 60s. He was later acknowledged as "an elder statesman to the Two Tone ska revival movement of the punk era" (AllMusic).
The 2-Tone era saw Aitken performing with the English Beat, touring with mod band Secret Affair, and backed by punk/reggae act the Ruts. In the 80s Aitken regularly toured the U.K. and recorded with British act Potato 5. In 1986 appeared in mod film Absolute Beginners alongside David Bowie. Throughout the late 90s he performed with several third-wave ska acts, including the Toasters and the New York Ska Jazz Ensemble. Most recently, 2002 saw the release of Live at Club Ska.
Our deepest condolences go out to the Laurel's family, friends and fans.