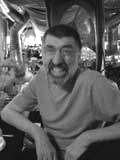 Southern Records founder John Loder passed away this past Saturday. His longtime collaborators at Dischord Records have issued the following statement:

On August 13th we lost our dear friend and business partner, John Loder.

John ran Southern Studios in London and has worked with Dischord for the past twenty-one years overseeing the manufacturing and distribution of many of our releases. Without John and Southern, Dischord would have never been able to have done so much in that time.

While his brilliance with computers and distribution was unquestionable, John's first and foremost love was music. He operated a studio out of a garage behind his house in the Wood Green neighborhood in London and recorded a number of Dischord releases there including Fugazi's Margin Walker E.P in 1988 (these songs appear on the 13 Songs CD). He also engineered and produced records for Crass and bands that appeared on their label, Corpus Christi, as well as many others including The Subhumans, Babes in Toyland, Shellac, Ministry, PJ Harvey, and Jesus and the Marychain.

John spent the last year battling the effects of a serious seizure caused by a brain tumor, but his condition worsened in the last month. He died peacefully and with loved ones early Saturday morning.
John's daughter Natasha posted the announcement and an account of his final day on his blog this past Saturday. Check the comments section for kind words from Steve Albini, Ian MacKaye, Guy Picciotto and many others. Funeral arrangements should appear on that page when they are finalized.
Our deepest condolences go out to John's family and friends.