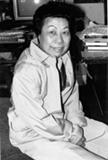 Esther Wong, the famed promoter affectionately known as the "godmother of punk," passed away this past Sunday at her Los Angeles home. She was 88. Wong's daughter Melinda Braun made the announcement this Wednesday. Esther suffered from cancer and emphysema.
Born in Shanghai, Wong moved to Los Angeles in 1949 following the revolution in China. Her first Madame Wong's nightclub opened in the late `60s. In 1978 the clubs, which had previously booked Polynesian music, switched to a rock format and became a hub for many then-emerging punk and new wave acts, including the Police, X, the Ramones, the Go-Gos, Oingo Boingo and many others. The original Madame Wong's closed in 1985, with a second, Madame Wong's West, continuing until 1991.
Wong is survived by her second husband Harry, son Frank, daughter Braun, six grandchildren and four great-grandchildren. Our deepest condolences go out to Esther's family and friends.