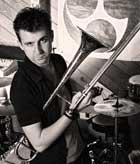 Ryan Dallas Cook, trombonist for ska revivalists The Suburban Legends, was killed in a motorcyle accident this morning. He was thrown from his motorcyle after colliding with a vehicle that had stopped in the carpool lane and then was repeatedly hit by oncoming cars. He was 23.
The vehicle involved in the incident fled the scene and is currently being looked for by authorities. It is described as a Hyundai, and possibly an SUV.
His bandmate and friend, Brian Robertson, made this statement on the band's website:

I can not put into words what I'm feeling now. My band mate, my best friend, my room mate Ryan Dallas Cook was killed early in the morning on the 19th. I dont have words to tell you how I feel. I love Dallas like a brother, and I've lost one of the most important persons in my life
More information about this tragic incident can be found on The OC Register and NBC.
Our deepest condolences go out to Ryan's friends, family and fans.