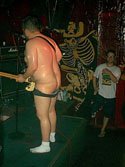 It's Sunday June 4th, 2006. So there is finally word of a new Dillinger Four record, which means you can all stop the asking when its coming. We were looking for a good "hell freezes over" picture to run with this week's article, but all the internet had to offer was a damn Eagles album cover and that horribly overused picture of a frozen Hell road sign. There's no way I'm perpetuating that meme, so here's some nudity. Enjoy.
Stories you were talking about this week
Two major records were online streaming this week, and everyone had a chance to finally check out AFI's Decemberunderground and the Bouncing Souls' The Gold Record. The bill to study the effects of depleted uranium munitions has successfully passed the house in the U.S. Congress, that bill being backed by congressman Jim McDermott, who worked with bands like Anti-Flag to get the word out. It's been a long time, but there's finally word that Dillinger Four will release a new album. Expect The Civil War on Halloween. Which side are you on? Other big stories in this week included some talk on Green Day's plans, an upcoming single from Slayer, a new album from Goldfinger, and some questionable choices on NME's "Best Albums of All Time" list. Finally, we've had more confirmation on that upcoming Lifetime / Bronx tour, seems that The Loved Ones are along for the ride as well.
This week we spoke to several bands, including Farewell to Arms, Brandtson and Aloha. Check those interviews out.
Current contests Win a 60GB iPod, more from Taking Back Sunday / Angels and Airwaves Taking Back Sunday and Angels and Airwaves are heading out on tour this summer in support of their respective new albums. To celebrate the bands are giving away a 60 GB iPod, $200 in iTunes Gift Certificates and much more.
MONO Vinyl
Japan's MONO recently released their full length You Are There on Temporary Residence. We're giving a few lucky winners some rare vinyl versions of their album.
The Hope Conspiracy: Hang Your Cross
To celebrate the long-awaited return of the Hope Conspiracy, Punknews.org and Deathwish would like to give one lucky winner all four colour variations of the upcoming 7-inch from the band. The vinyl is extremely limited with only 500 copies of each color pressed.
Streams
We added a new stream this week for the Methadones upcoming covers album 21st Century Power Pop Riot! We're also streaming new music including VCR's Power Destiny and another for Tragedy's Nerve Damage.
Diversions
We've theorized that you visit other websites out there, and we know it can be tough, so we'll help by infecting the rest of the Internets with Punknews content. Waste some time on the Punknews.org / Punknews Records MySpace pages or add your listening stats to our Last.fm group.
Come Join Us
Why register on Punknews.org? Registered users can now rate bands and reviews, building recommendations and links between artists for the whole community to share and discover. Of course as a registered user the "Nickname / Password" box will become a handy search tool and you can save your preferred settings for the comment sections. So go ahead, cast off the cloak of anonymity and create your account today - it's free, easy and private.