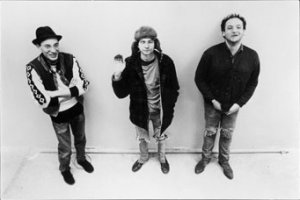 The legendary Big Black has been added Touch and Go Records recently announced 25th Anniversary Block Party to be held at the Hideout in Chicago, IL.
The band, which formed in 1982 included producer Steve Albini and featured Jeff Pezzati and Santiago Durango, both of Naked Raygun and the original lineup will be performing at the party. According to the label, the set will be very brief, adding "it's "just a couple songs, but who cares how many they play?"
Recent additions include Arcwelder, The Ex, !!!, Pegboy, Man… or Astroman?, Killdozer, Three Mile Pilot and many more. The bands join the previously announced roster which includes legendary hardcore act Negative Approach, Ted Leo + the Pharmacists, Didjits, Shellac, Pinback, The Black Heart Procession and many more.
The party will take place on September 8, 9 and 10. All of the profits from the ticket sales will be donated to three Chicago organizations: Tuesday's Child, Literacy Works, and the Thomas Drummond Elementary School.
Founded in 1981 in Lansing, Michigan and Maumee, Ohio, Touch and Go soon found itself at the center of the Detroit punk scene of the early 80s. Early records by classic punk bands Negative Approach, The Meatmen, and the Necros quickly put Touch and Go and the growing Detroit hardcore scene into the national spotlight.
For more on Big Black, you can check out their Punknews.org profile.