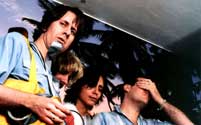 Swami has set an August 15th, 2006 release date for a final, posthumous release from San Diego's Hot Snakes. Titled Thunder Down Under, the album compiles, appropriately enough, a special studio session recorded by the band in Australia for the continent's Triple J Radio Station.
The recordings were produced by Greg Wales (Radio Birdman, You Am I) and includes the band's performances of favorites like "Braintrust," "Kreative Kontrol," "Plenty For All" and "Think About Carbs" adding to thirteen tracks in all. The recording will be the second set of radio performances released by the band, with their Peel Sessions released just prior to their split.
Hot Snakes included members of equally lauded groups like Rocket From The Crypt, Drive Like Jehu, Burning Brides are others. They split up in July of 2005.
Braintrust
Hi-Lites
Retrofit
XOX
Think About Carbs
L.A.X.
Plenty For All
Who Died
Suicide Invoice
Kreative Kontrol
Rock n' Roll Will Never Die
U.S. Mint
Let It Come