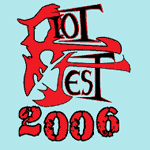 The entire Fiend Fest Lineup (Misfits / The Adicts / Osaka Popstar / Juicehead / Orange) have dropped off the recently announced Riot Fest bill.
The Riot Fest promoters explained:

However, because several last-minute stipulations could not be agreed upon between Fiend Fest representation and us here at Riot Fest, we have decided to pursue the festival without their involvement.

We apologize for this situation as we did not anticipate this to happen to the fans of Riot Fest. However, we have begun pursuing replacements and know the festival will not lose focus in providing Chicago a great show."
Though the show will continue to feature high profile reunions from Chicago icons Naked Raygun, as well as Blue Meanies, Bollweevils the promoter is offering refunds to those expecting to see the Fiend lineup.
Other high profile acts set to appear include the the Toasters, the Business, Mustard Plug and many more.