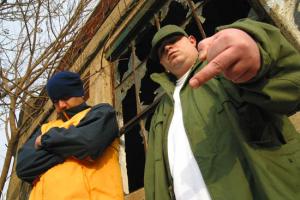 We're happy to bring you an exclusive stream from Philadelphia, PA-based hip hop duo, Jedi Mind Tricks.
The underground hip hop outfit worked with hardcore act Terror, specifically frontman Scott Vogel and guitarist Martin Stewart on the track which follows in the tradition of great hip hop/hardcore/metal collaborations like Public Enemy and Anthrax's genre bending "Bring The Noise"
You can check out "Heavy Metal Kings (Featuring Terror)" on their Punknews.org Profile for a limited time.
The track will appear on the duo's upcoming album, Servants in Heaven, Kings in Hell, which is due out through Babygrande Records on September 19th.