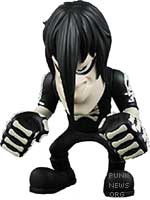 Wondering what to buy for Davey Havok or any other Danzig super-fan this Christmas? Try the new 3 Faces of Danzig limited edition toy series featuring that master of ironic evil, real evil and arena evil himself, Glenn Danzig.
Each doll in the set will spotlight one of Danzig's famous personas, from his earliest moments in The Misfits (Walk Among Us) to the Samhain-era (Infinitum) through his third band, Danzig (Lucifuge). The figures are made of soft vinyl, stand 10-inches tall and retail for $75.00 each.
The toys are being manufactured by the Japanese company Medicom and sold in the U.S. By the Chaser Merchandising company in stores such as Spencer Gifts, Hot Topic, comic book/specialty stores, and on the Chaser website.