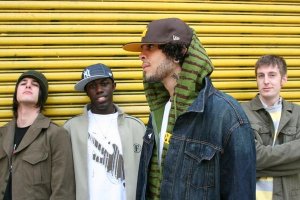 Fearless contributor Mark Rowan recently spoke with Travis McCoy, frontman/MC of Gym Class Heroes. Besides releasing their new album, As Cruel as School Children in July, McCoy contributed to the Cobra Starship single, "Bring It (Snakes on a Plane)" which is currently making the rounds at FUSE and MTV.
The latest album has a bit of a different sound to it, how do you think you've matured on this album when compared to the last?
think we matured as song writers. As far as structure and stuff goes, I think we took it a lot more seriously than the last record. It also was a time issue, the last record we did in three days. It was a different experience as a whole and we had a lot more time to craft the songs and make it the best as possible.
What MCs did you look up to growing up, to mold your style and inspire you?
I listen to a lot of underground stuff. For the most part, Gang Starr was a huge influence on me and so was Guru. It was so simple, but there is still a lot of content. They were probably my favorites growing up.
What was it like being the only hip-hop act on Warped Tour this summer?
It would have been weirder if we haven't been touring the past two years and didn't build a solid following. Our first year on Warped Tour it was definitely strange. This year it was really really cool. It was something refreshing for kids. For me, Talib Kweli did two days on the tour and it was so exciting, because after a while you get numb from hearing the same thing everyday and to hear that dude's voice. I think kids got the same effect from us.
How do you think the hip-hop community has received the band and the last album?
I was just home today, but our single came out on R&B Pop radio. So it's a strange situation, but at the same time I wouldn't want to deny anybody of a chance to hear our music, I think it appeals to everyone. For the most part everyone is feeling it, everyone is into it, and that's the point. 45 year old women come up to me, at Warped Tour even, and say "We brought our kids to see so-and-so, but we came here to see you." And I'm like, that's amazing. Not a lot of people on Warped Tour can say that.
What inspired the theme on this album…the school children, the class theme?
We wanted to make a summertime record and once we got done and listened to it, I felt we accomplished that…just the textures and the vibes from a lot of the songs. It took an overall theme of youthfulness. Disregard for being a grownup and responsible, a lot of the songs are drawn from the mischievous side of me and a lot of that came from the things I experienced in school. So we wanted to take that and run with it. The title for the record is kind of a metaphor for the world and the music industry. I feel the music industry definitely has its milk money bullies. It's definitely not a concept record; I think last year was the year of the concept record. The record is cohesive and a lot of things tie in with each other. I wanted to shy away from making a concept record, but you never know it could happen. [laughs]
What was it like to work with everyone on the Cobra Starship song and video?
It was awesome. Gabe [Saporta, of Midtown], William [Beckett, of The Academy Is], and I have been friends for a while and Maja [Ivarsson, of the Sounds] is gorgeous so it's easy to get along with her. It was fun, it was really fun. To be a part of that with Samuel L. Jackson and to be at the red carpet premiere it was just an amazing experience.
Did you work on any other songs on the new Cobra Starship album?
No, I was supposed to, but I didn't get a chance to. They had to get it done and out, but hopefully they do some B-sides or something. I need to work with Gabe again.
Do you think you guys are probably the first of many to have songs written about MySpace?
I'm surprised no one has done it yet. We can't deny that it's definitely a part of our generation. It's a huge tool…not to sound like a tool. [laughs] I definitely got in touch with a lot of friends I haven't gotten to talk to in ages through that website, so it's definitely relevant as far as today goes. Tom's brilliant.
I see you guys are touring with Cage now, do you see you guys touring with more hip-hop acts in the future?
That's the cool thing about Gym Class, coming up there was never a need for us to fit in. We played with all kinds of acts, to hip-hop acts to reggae acts to death metal acts, so it was all over the place. Whoever we're feeling and whoever we're into, we're going to tour with. I think we definitely gained a reputation of taking crowds that aren't necessarily into us and making them have a good time. Cage just dropped off the tour to finish his new record, but Hanger 18 is coming out in place of him and those guys are good dudes.
If you could pick an ultimate tour, who would be on it?
An ultimate tour? Wow, that's a crazy question. There's this crazy Michael Jackson cover band called Who's Bad, that I would love to take out. I would love to tour with the Red Hot Chili Peppers; it's a band I've always personally been influenced by. I'd definitely have Gang Starr. Wow, Gym Class, Gang Starr and the Red Hot Chili Peepers that's the tour for me and Who's Bad opening.
The lyrics have a lot of references to alcohol, what's a drink you can recommend to everyone?
A drink? Grey Goose and tonic all the way. It's probably the only drink I know, the only one that matters.
If Gym Class Heroes was an airline, what would they serve for an in-flight dinner?
We would serve…This kid is going crazy right now in the airport so I have to try to ignore it. I don't know, some DiGiorno personal pan pizzas, we take those things seriously. Probably a Guinness and pork rinds and you get one complementary condiment like sugar.
What's in store for the future of Gym Class Heroes?
Tons of touring. We're going to be on the road forever just for this record. And then start writing songs for the new record; we're just going to be busy. We're doing the headlining tour when we get back, like we were talking about earlier, and then we're doing an arena tour with All American Rejects up until Christmas. So that's all mapped out and after that I'm sure we'll be on the road some more.
Awesome, anything us you want to say?
Yeah, watch out for those Gym Class Heroes.