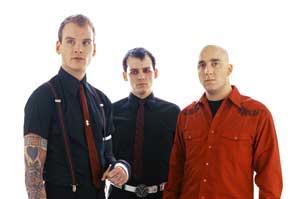 Sources have confirmed to Punknews.org that V2 has signed Alkaline Trio. The label is the home of the Blood Brothers, the Adored, the White Stripes and Gang Of Four. The independent label was started by Richard Branson of Virgin Records fame, but is privately owned currently and connected to Artemis Records.
In 2005, the band released Crimson, their third album for Vagrant Records and fifth studio album overall.
Guitarist/vocalist Matt Skiba had this to say:

We are proud to be working with V2 and already feel very much a home on our new label. We found in V2 exactly what we were looking for: trust, friendship and the ability to continue to grow as a band. Yet, we left Vagrant Records on very amicable terms and are very thankful for all they have done for us thus far.
His bandmate Dan Andriano adds:

We're super excited about our new situation. V2 has managed to surround themselves with an amazing roster that transcends genres, and breaks through indie rock stereotypes.