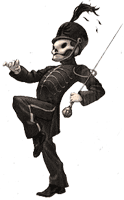 My Chemical Romance have posted a full album stream of their upcoming second major label full length. Titled The Black Parade, the 11-track disc follows the band's breakthrough, Three Cheers For Sweet Revenge and is due out October 24th on Warner.
You can check out the stream here.
Don't forget to enter our contest to win a signed guitar from the band.