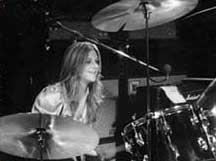 This past Saturday, October 21st, Sandy West, drummer for influential 70s rock band the Runaways, died following a long battle with lung cancer. Runaways vocalist Cherie Currie spoke about West on the band's official website:

"Sandy West was by far, the greatest female drummer in the history of rock and roll. No one could compete or even come close to her, but the most important was her heart. Sandy West loved her fans, her friends and family almost to a fault. She would do absolutely anything for the people she loved. It will never be the same for me again to step on a stage, because Sandy West was the best and I will miss her forever."
As part of the Runaways with Currie, Joan Jett and Lita Ford, West contributed to a discography includes over 60 albums, singles, bootlegs and compilation appearances, not the least of which was the influential hit "Cherry Bomb."
Punknews.org sends our deepest condolences to Sandy's friends, family and fans.