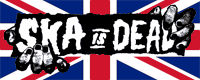 Mustard Plug have posted a previously unreleased track "Puddle of Blood on the Streets of Gold." The band recently issued a greatest hits compilation, titled Masterpieces: 1991-2002 and before that, their last studio record, Yellow #5 in 2002. Both were released via via Hopeless.
You can check out the song on their Myspace Page.
The band is gearing up for the Ska Is Dead UK tour.