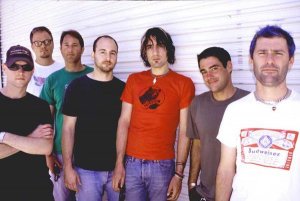 We're proud to bring you Twelve Small Steps, One Giant Disappointment, the final album from Bad Astronaut and one of the final recordings from late drummer Derrick Plourde.
Originally developed as a vehicle for Lagwagon's Joey Cape to experiment outside of the confines of fan expectations, Bad Astronaut developed into an influential act in it's own right.
Our reviewer Chris Moran put it well:

An obvious struggle is seen between two very different feelings, and the end result is an album that, though deep in production value, is very raw with personal feeling. Though I can certainly understand the reluctance to finalize it, I'm glad we were able to witness a project being appropriately put to rest, the last goodbye from one friend to another.
You can check out the album on the band's Punknews.org Profile.