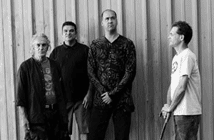 According to Blabbermouth, influential San Francisco noise/punk act Flipper has recruited former Nirvana bassist Krist Novoselic for the band.
Novoselic, who played in various groups after NIRVANA's 1994 demise, put music on the shelf in recent years to concentrate on local politics in Washington state, where he has championed free speech and voting issues and even considered a run for lieutenant governor at one point.
You can check out some music from Flipper on their myspace page.