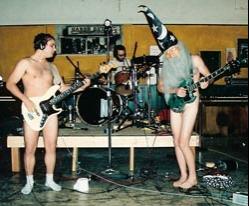 Tera Melos, Sacramento's instrumental hardcore jazz trio, will release a new 12" EP, entitled Drugs For The Dear Youth, to coincide with their upcoming national tour with The Fall Of Troy, Damiera and Portugal The Man.
The vinyl-only release will be limited to 500 copies, consisting of 250 on transparent brown vinyl and 250 on turquoise, all with full color jackets.
Though the album won't be released until January 18th, the band has already began encouraging fans to bootleg it's contents via the blog on their MySpace page:

Keeping in melos tradition, this will be an interactive record. because not everyone has a record player, (although we're giving you plenty of notice, so you should head over to the swap meet and pick one up for a few bucks), it'll be your jobs to rip this bitch into mp3 format and get it out there. bit torrent, file sharing whatever. because of course we want more than 500 people to have it, feel me?
The record is six songs long, clocking in at 21 minutes, and will be available for pre-order from Springman Records starting January 1st, 2007.