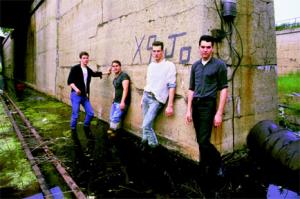 Naked Raygun have announced that their reunion has become a little more permanent. On their website the influential Chicago act announced:

"Well, we think it's about time to stop all the rumors that have been flying around since our show at Riot Fest 2006. So, we can now officially say it: Naked Raygun is back for good! More shows, releases and of course some unexpected surprises! We're all really excited about this and cannot wait to connect with new fans and reconnect with the fans who have never let us down."
The band's first show of the new year will feature the Bollweevils, the Effigies and Shot Baker at the House of Blues in Chicago on Friday, April 27. The band will also be releasing a DVD / CD of their reunion performance as last year's Riot Fest:

Our first release of the year will be the Live at Riot Fest 2006 DVD/CD, which should be released sometime in June on Riot Fest Records. We have all looked at the raw footage already and it's just amazing!! The "secret" Sub-T show is just off the hook! Also, the shows were shot in HD Blu Ray, so that means that all of the kids who got PS3s for Christmas because their mothers punched out other mothers in line at Walmart can actually put something good in them. Plus, there will be tons of bonus footage, interviews, rehearsal sessions and so and so forth on this DVD.