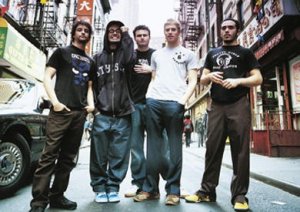 On-again-off-again hardcore act Glassjaw have announced some plans to be "on" for a little longer. On the heels of their recent winter tour, the band has announced plans to release some new music. While there is no indication where the new material will formally be released, the band is planning to post songs online for streaming.
In related news, Glassjaw frontman Daryl Palumbo's other project Head Automatica is also working on some new material, with plans to begin pre-production on a new EP shortly. The band will be recording in Desert Hot Springs, CA.
Finally, Daryl adds some other plans:
I have started working on the first Cardboard City Mixtape with Nick from Men, Women & Children, and DJ Krazyglue. The mix will be available as a CD as well as downloadable (Both in limited quantities). The CD will be hand numbered by us. This mega-mix will contain exclusives, remixes & previously available jams from all of the various CC affiliates (Cage Kennylz, Yak Ballz, Camu Tao, Men Women & Children, Head Automatica, EL-P, F. Sean Martin, X.O. Skeletons, House Of Blow, We Are The Fury, DJ Krazyglue…

Finally, F. Sean and myself will be recording a few more songs for the House Of Blow record in the next two weeks. If the tunes come along far enough, we will definitly post them on the H.O.B. MySpace.