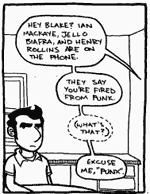 Springman Records has announced a partnership with Punknews.org friend Mitch Clem. The plan begins with the release of new sticker designs, and promises of more merchandise and projects to come.
Clem is the author of the punk-rock web-comics Nothing Nice To Say and San Antonio Rock City, and also a contributor of artwork to Razorcake Magazine, Punknews.org, and various bands including The Epoxies and O'Pioneers!!!
The new stickers include the much-asked for "WWHRD?" design, and an answer to the age-old question of "How cool would it be if Raffi all of a sudden started a hard-core punk band?" with "Bananarchy!" Both stickers are available for mail-order from the Springman Records website.