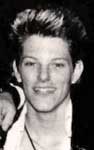 Brent Liles, bassist for Social Distortion until 1984, and Agent Orange thereafter has passed away. Brent was killed suddenly, when he was struck by a truck as he rode his bicycle across a street in Placentia, California.
Liles played bass on the Social Distortion's groundbreaking Mommy's Little Monster recording in 1983 and also Agent Orange's 1992 classic, Living In Darkness. He also figured prominently in the documentary, Another State of Mind which focused on both SD and Youth Brigade.
The OC Register reported the accident. According to their story, Liles, wearing casual clothing, was riding a small dirt bicycle westbound on Orangethorpe Avenue just after 11:30 a.m. Thursday. As he entered the crosswalk at the Orange (57) Freeway, a big rig carrying a trailer turned right onto the on-ramp and accelerated, hitting Liles. He was pronounced dead at the scene, officials said.
The driver, Javier Lopez of Rancho Cucamonga, was turning on a green light. He was not immediately cited, CHP officials said. The crash is still being investigated.
Our deepest condolences to Brent's friends, family and many fans.